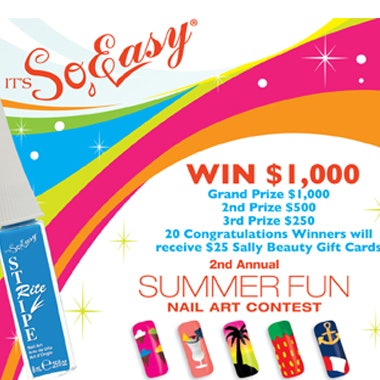 Catch a wave and surf on over to the It's So Easy Summer Fun Nail Art contest. The nail art brand invites fingertip fanatics from across the United States to share their best summer-themed nail creations, and enter to win cash or gift cards.
    
The prizes are:
        1st: $1,000 cash
        2nd: $500 cash
        3rd: $250 cash
       
Twenty congratulations prizes will also be awarded, offering $25 gift cards to shop at Sally Beauty Supply, the largest retailer of professional beauty products in the world.
To enter, participants must visit www.itssoeasynails.com and upload one nail art look. The deadline to enter is Wednesday, July 31st. On August 1st, online voting will open to nail enthusiasts to help their favorite design win. Voting ends on August 15th and will determine the top 50 finalists. Final judging will be conducted by the It's So Easy Professional Nail Art Team, and winners will be announced shortly after.
Participants must be 16 and older to enter, and entries are limited to nail lacquer and nail art paint only – no embellishments allowed.
Tag the It's So Easy contest on Facebook, Instagram and Twitter using #ISENailArtContest2013.
For more information visit itssoeasynails.com.
[Image courtesy of AII Beauty]