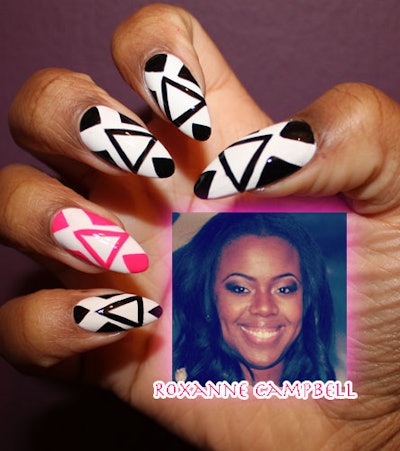 Welcome to NAILPRO's NAILED DOWN where we "nail down" the details of selected nail design artists from our User Galleries.
This week go around the globe to London, England!
Meet Roxanne Campbell:
Where do you work?
I'm a freelance manicurist/nail artist.
How would you describe yourself?
I am a very friendly, creative, hard working, artistic person who is extremely passionate about nails.
Tell us about how you got started in the nail industry.
I began my passion for nails at five years-old. I dipped my hand into my mums hand bag and started to paint my nails. I remember being so excited and happy to have my nails painted. As I got older, I started to practice on my aunties and cousins.
In 2005, I studied Nail Technology. As soon as I qualified, I worked in a nail salon named New York Nail Company based in High Street Kensington where I gained plenty of experience. I then worked in Harvey Nichols Champagne Nail Bar for over one year. Then moved to O.P.I based in Selfridges for almost four years. In 2012, I worked in the P&G's salon at the London Olympics base in the athletes village. Now I work at photoshoots, events, parties, wedding etc.
Do you have any tool(s) you can't live without?
I definitely can't live without cuticle nippers.
What tip can you offer to other nail technicians?
Practice as much as you can. Find a design or style that suits your strengths.
Anything else you'd like to add?
I won an award for Manicurist of the year 2013!
You can find Roxanne Campbell on the web:
Website: www.roxannecampbell.com
Instagram: @roxannecampbell
Twitter: @RoxanneCampbel
Facebook: Roxanne Campbel
Click here for more Nailed Down! interviews »
Would you like to be featured in NAILED DOWN? Post images of your nail art to our User Gallery. We'll be highlighting outstanding artists based on those submissions! (minimum six pictures to qualify for consideration) NAILPRO reserves the right to edit submissions for length, grammar and clarity.