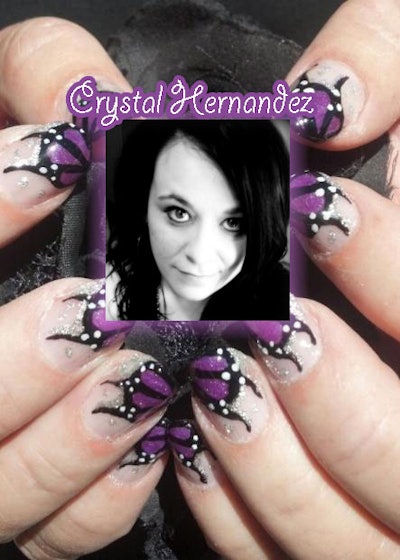 Welcome to NAILPRO's NAILED DOWN where we "nail down" the details of selected nail design artists from our User Galleries.
This week visit Winnemucca, Nevada!
Meet Crystal Starr Hernandez:
Where do you work?
I work at Electric Beach with owner Dorine Dory.
Tell us about yourself.
I am married to a hard working and loving husband, Carlos. We have two children, Angel Izaiah and Ahryahnna Skye.
How did you got started in the nail industry?
I have been doing nails since October 2012. I decided to do nails because I've always been artistic and have enjoyed decorating cakes and party planning. So I wanted to be able to express my art, make my own hours, and be my own boss. It turned out that I found my calling!
Who inspires your work?
My favorite (non 3D) artist is Robin Moses, I only wish I could paint that well!
Do you have any tool(s) you can't live without?
With the product I use, which is an organic protein based gel, my go-to tool is actually a metal dental pick! I use it to add color on the nail and to form the C-Curve.
Do you have a favorite technique or style?
My favorite style of nail art is 3D art. It's like adding the cherry on top 🙂
What is your funniest/craziest nail story?
The funniest thing that ever happened to me was when I was working alone at the salon. I was filing off my client's nails and I had my vacuum on. Then all of a sudden we hear this man's voice yell, "HELLO!!" My client and I both jumped in fear! We could not stop laughing at each other!
What tip can you offer to other nail technicians?
The only advice I can give other Nail Techs is don't worry about what others say. Use all of that negativity to fuel your work and you will shine! 🙂
You can find Crystal Hernandez on the web:
In the NAILPRO User Gallery: First Year
Facebook: Nails by Crystal Starr
Check out Nailed Down!'s one year anniversary! »
Click here for more Nailed Down! interviews »
Would you like to be featured in NAILED DOWN? Post images of your nail art to our User Gallery. We'll be highlighting outstanding artists based on those submissions! (minimum six pictures to qualify for consideration) NAILPRO reserves the right to edit submissions for length, grammar and clarity.