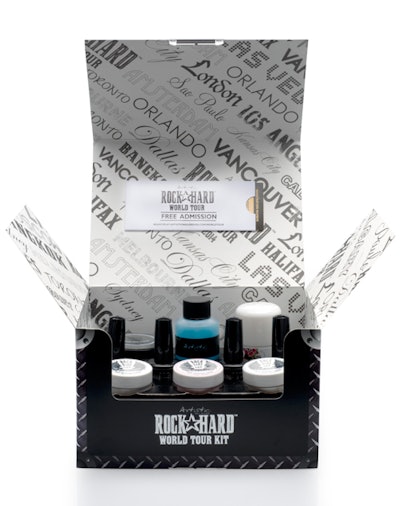 After much long-awaited anticipation, the Artistic Rock Hard World Tour Kit (RHWT Kit) is now shipping! Customers can expect their pre-ordered kits to be available during the month of June and the RHWT Kit will also be available for purchase through official Artistic Nail Design® distributors all around the globe. With the RHWT Kit, nail technicians will no longer have to choose between liquid & powder and hard gel – the products inside the RHWT Kit are formulated from one single monomer to create two distinguished products that work together in so many ways.
Two lucky Nailpro winners will receive the Artistic Rock Hard World Tour Kit (RHWT Kit)!  ENTER HERE>>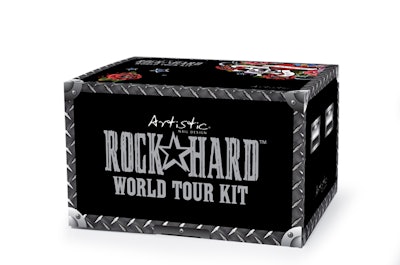 "This revolutionary system will rival all current extension products on the market in terms of versatility and ease of use," Artistic Nail Design® executive vice president and creative director Alisha Rimando Botero said. "The kit is also an amazing opportunity to get your hands on both our Rock Hard LED Gel and brand new Liquid & Powder products – together, in one amazing package," adds Botero.
Since education is such an important aspect to the Artistic Nail Design® brand as a whole, Botero has organized an educational world tour, aptly named the Rock Hard World Tour (RHWT) in order to support the launch of the entire line. The RHWT will kick off in Las Vegas, Nevada on June 25 and 26, 2013 with additional tour stops around the globe that includes cities such as Bangkok, Thailand; Sydney, Australia; and Sao Paulo, Brazil –to name a few.
"The RHWT is such an amazing opportunity for nail technicians to try this amazing new line and attend the two days of hands-on training to learn how to use the products in the salon," Botero said. "I can't wait for the tour to start – the Las Vegas launch will be very special for the Artistic Global Education Team and the technicians that join us for the one-of-a-kind opportunity. Best of all? Your free admission ticket is included with the purchase of a RHWT Kit" she adds.
To register your ticket, confirm your pre-registration or to check-out the rest of the stops on the tour, please visit: www.artisticnaildesign.com/rock-hard-world-tour- register
For more information on the RHWT from Botero and other Artistic Educators, please watch at: http://bit.ly/137Hqde
[Images courtesy of Hand and Nail Harmony]