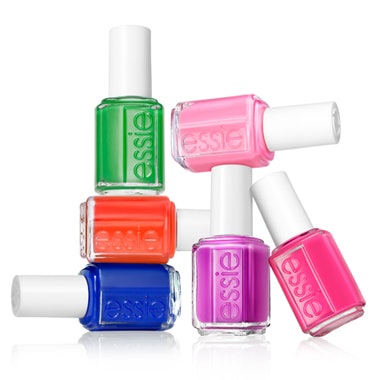 Clients rely on their salon to have a new, exotic selection of polishes different from their own sets back home.  Alongside pricing and quality of the service, color choice is a huge factor when a client determines to go to one nail salon versus another. Make your business stand out — and in an especially bright and bold way — with this fresh pallette of neon lacquers that will bring in new customers all summer long.
The Orly Mash Up Collection for Summer 2013 is full of mermaid-like lacquers. Choreographed Chaos is a mildly iridescent bubblegum pink, Harmonious Mess is sweet lavender, Mayhem Mentality is light neon orange, Sparkling Garbage is a teal sparkle, Pretty-Ugly is an angelic light blue, and Beautiful Disaster is shimmery violet.
[Image: Orly]
The Essie Neons 2013 Collection features six pulsing shades: Shake Your $$ Maker (electric green), Saturday Disco Fever (fire coral), Bouncer, It's Me! (vivid blue), Boom Boom Room (ultrabright bubblegum pink), DJ Play That Song (neon plum) and Bottle Service (scorching fuschia).
[Image: Essie]
China Glaze Ombre Neon Sunset makes it easy to create a perfectly colored sparkly fuschia to purple ombre nail. Each set contains the four full-sized polishes, ten sponges, and directions on how to create the effect. 
China Glaze Ombre It's All Peachy creates a classic white, coral, and hot pink ombre nail that can be topped with glitter.  Mix it up for clients by alternating (such as on the ring finger) the direction in which the ombre goes — try having the darkest shade at the cuticle instead.
[Image: China Glaze]
Zoya offers two new lines of polish for the summer season, Stunning and Irresistable.
Zoya Stunning Collection contains shiny creams in the shades Rocky (sky blue), Mickey (soft pink), Darcy (sun yellow), Yana (hot pink), Thandie (orange), Josie (grass green).
The Zoya Irresistible Metallic Collection shines bright with six sparkly lacquers: Hazel (blue), Tinsley (lighter pink), Kerry (yellow), Amy (orange), Rikki (green), and Bibbi (fuschia). 
[Images: Zoya]
Light Elegance UV Neon Paints help you prepare clients for the beach with six sizzlin' hot gels.
[Image: Light Elegance]