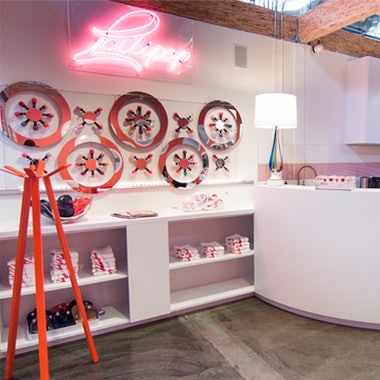 Inspired by her young daughter, Jackie Dalton created Lollipop Nail Studio to serve as a "healthy, fashion-forward place to get an organic manicure and pedicure." Dalton explains that her daughter kept asking to get her nails done but that she was concerned because of the chemicals and toxins present at nail salons. So Dalton set out to create a place where "safety and style could co-exist happily." It makes sense then that the natural nail care haven's tagline reads: Where organic and glossy meet. Since Lollipop opened its doors in The OC Mart Mix eco-friendly marketplace in Costa Mesa, California, a year ago, the nail studio has been very well received by those in need of a healthy go-to spot for nails, as well as little girls wanting to get their nails done with mom.
5 Reasons Why We Think It's Fabulous
1.) Dedication to healthy, nontoxic products and services.
Lollipop limits its use of alcohol and acetone and stays away from heavily perfumed or artificially colored products. The nail studio offers vegan, 5-free and water-based polishes; however, it also realizes that the nail industry will never be completely rid of chemicals. "Nail polish will never be absolutely free of chemicals–it's paint after all–but you can significantly reduce your chemical exposure through choosing the right brands, and we are always on the lookout for new ones in this category as well," says Dalton. The studio also uses disposable liners and single-use files and buffers. All tools are sterilized in a medical-grade autoclave, and hot towels are used instead of bowls to soften cuticles. This attention on sanitation ensures that its clients receive a luxurious and safe mani-pedi experience, while also upholding the integrity of the nail industry.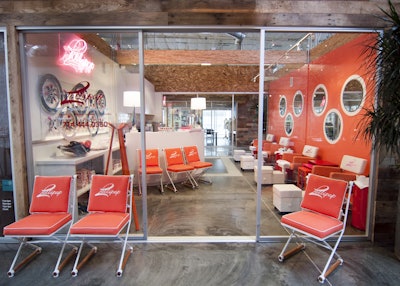 2.) Products are handmade from organic and natural ingredients on the spot.
The salon's soaks, scrubs and massage oils are made in-house without preservatives, parabens or additives by the educated staff in small batches. Dalton points out "Our staff is knowledgeable on the different organic and natural ingredients and the benefits of each. We only use organic and natural ingredients such as essential oils, raw sugar and more so that our clients can have the healthiest, most natural services." Lollipop utilizes four essential oils of almond, camellia, rose and geranium throughout its services. "The first thing that most guests notice about Lollipop Nail Studio is that it doesn't smell like a typical nail salon. … Instead of smelling acetone and polish like you would at a typical salon, our guests only smell our signature ingredients."
3.) Customization is key.
Handcrafted products from Lollipop's own apothecary and skin/nail consultations make it that much easier to create distinctive services for individual needs. "We currently offer four flavors of scrubs and regularly modify our handcrafted recipes to accommodate clients with special sensitivities or who have specific requests," Dalton says. Lollipop caters to cancer survivors, mommies-to-be, and "others for whom safety is essential to not compromise an already weakened immune system." A commitment to using the finest organic ingredients and oils has also created a demand for private parties. "A huge surprise to us has been all of the private parties we have been doing for both women and kids. We do two to three private parties a week," says Dalton. The array of personalized products and focused attention to natural health and beauty for each client make any treatment at Lollipop an exclusive experience.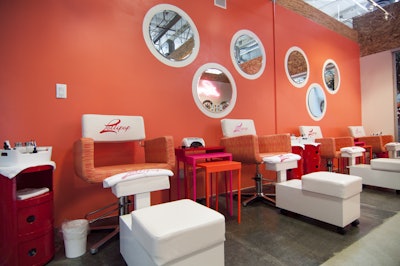 4.) The hip, eco-friendly design.
Modern architecture filled with coral walls and coordinating midcentury lounge treatment chairs combine to provide the studio with style and sensibility; it's a bright, clean space that ultimately provides pure relaxation and good vibes. The cozy eco-chic design fits right in with the Costa Mesa OC Mart Mix, a marketplace known for its owner-operated shops that provide eco-warriors with one-of-a-kind finds. Part of the décor includes unique wall mountings for storing/displaying nail polish and what else, but lollipops. And yes, clients receive an organic sweet lollipop treat at the beginning of treatments!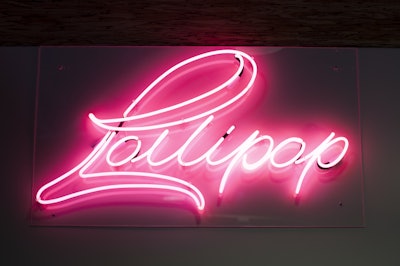 5.) Fine example of what's to come.
Meticulous efforts at providing what's best for the planet, skin, body and nails set the Lollipop Nail Studio apart from other boutique salons. Excellent customer service (you may be greeted with a lollipop and a mimosa!) and professional, earth-friendly nail services at an affordable cost are in demand, and Lollipop delivers that with cutting-edge nail trends and sweet details. "We're working on expansion plans in Los Angeles as well as other cities in the future," says Dalton. Making a commitment to what's best for the nail industry and your clients while still remaining realistic about what you can and can't offer is what it's all about. So far, Lollipop's glowing reviews foretell that new locations will be just as much appreciated.
[Images: Lollipop Nail Salon]