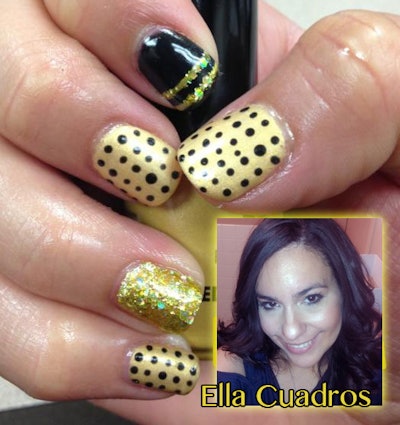 Welcome to NAILPRO's NAILED DOWN where we "nail down" the details of selected nail design artists from our User Galleries.
This week we visit Roy, Utah!
Meet Ella Cuadros:
Where do you work?
I'm from Colombia but live and work in Roy, Utah.
What/Who inspires your work?
I am a fashion designer, so my inspiration can come from just mixing colors, flowers, etc.
Do you have a favorite technique or style?
I love gel nails, but I think shellac is the best.
What is your craziest/funniest nail story?
One day my friend shows up with a bottle of wine to the appointment. She wanted to relax and have some wine while I did her nails! 🙂
What tip can you offer to other nail technicians?
Just love your job. Love what you do. That's the best inspiration for anyone!
You can find Ella Cuadros on the web:
In the NAILPRO User Gallery: Nails by Ella, More Nails by Ella, More Nails by Ella – 2, More Nails by Ella – 3
Facebook: Nails by Ella
Twitter: @nailsbyella12
Click here for more Nailed Down! interviews »
Would you like to be featured in NAILED DOWN? Post images of your nail art to our User Gallery. We'll be highlighting outstanding artists based on those submissions! (minimum six pictures to qualify for consideration) NAILPRO reserves the right to edit submissions for length, grammar and clarity.