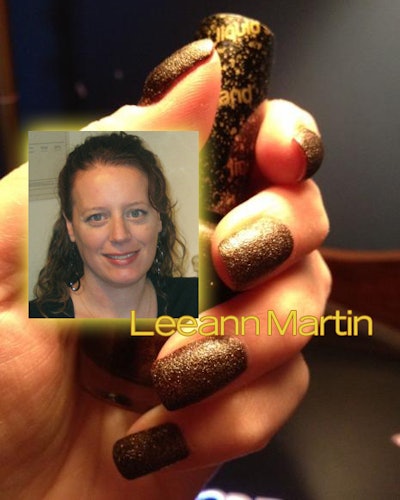 Welcome to NAILPRO's NAILED DOWN where we "nail down" the details of selected nail design artists from our User Galleries.
This week we visit Brantford, Ontario Canada
Meet Leeann Martin:
Where do you work?
I am the owner of Upscale Nail.
How would you describe yourself?
Outgoing, creative and down to earth.
Tell us about how you got started in the nail industry.
I started by taking a co-op through high school and loved it so much I went on to school at Gina's School of Aesthetics where I received my dipolma. After graduating, I took many nail courses and received my Masters from CND.
What/Who inspires your work?
Magazines, art and anything unique.
Are there any tool(s) you can't live without?
Dotter tools and my detail brush.
Do you have a favorite technique or style?
I love to customize nails by using CND Additives.
What tip can you offer to other nail technicians?
Practice! And try to practice techniques before you actually have a client. It's much better to see if anything could go wrong before your client comes in, instead of when she's at her appointment.
Anything else you'd like to add?
I think it's very important to meet your clients' needs and to have a consultation with them before starting any service. This can save you so much time because you can now customize your appointment to meet the lifestyle demands of your client.
You can find Leeann Martin on the web:
In the NAILPRO User Gallery: Upscale Nail Designs and What Wizardry is This?
Website: www.upscalenail.ca
Pinterest: Leeann Martin
Also check out the NAILPRO-file interview featuring Upscale Nail Salon!
click here
Click here for more Nailed Down! interviews »
Would you like to be featured in NAILED DOWN? Post images of your nail art to our User Gallery. We'll be highlighting outstanding artists based on those submissions! (minimum six pictures to qualify for consideration) NAILPRO reserves the right to edit submissions for length, grammar and clarity.