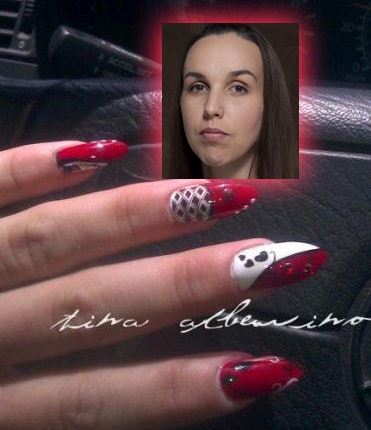 Welcome to NAILPRO's NAILED DOWN where we "nail down" the details of selected nail design artists from our User Galleries.
This week we visit Tampa, Florida
Meet Tina Alberino:
Where do you work?
I have my own business (Alerissa) which I run out of New Tampa Foot and Ankle, a podiatry practice
How would you describe yourself?
One of my clients once told me that I am the most compulsive perfectionist she has ever met. It is the most accurate thing anyone has ever said about me!
Tell us about how you got started in the nail industry.
At age 15, I started working at a really upscale Aveda spa. I started cosmetology school at the same time. During the course of my education, I realized I had a natural talent for nails and my love for it eclipsed every other department. I did sculpted sets so well that the owner of my school was having me teach the skill to the other students when I was just 16 years old!
Now I focus mostly on medical mani/pedi treatments. I have extensive training in medical nail care and am qualified to treat clients that suffer from advanced nail, skin, and immune disorders including those clients that are afflicted with diabetes and those recovering from various foot & ankle surgical procedures. It's not a career that's suited for everyone, but helping my clients has really given me a level of professional satisfaction that I just couldn't get in a traditional salon atmosphere.
What/Who inspires your work?
I have a leather journal that has graphing paper in it. That's where I sketch out my designs before a shoot. I put on my headphones and turn on Pandora. If I hear a song I like, I'll try and convey it on the nails. Sometimes I'm inspired by my favorite books, shows, and video games. I sketched out a beautiful set inspired by Battlestar Galactica that I'll be shooting next! My friend and makeup artist, Cynthia Cervantes, will pick wardrobe and do makeup to go with the nails and our photographer James Monahan will make the magic happen with his camera! Great designs deserve to be showcased appropriately, especially since they're so much work!
Are there any tool(s) you can't live without?
Glitters and mylar! I have a huge collection of them!
Do you have a favorite technique or style?
I have to pick one?! I've always been big on embedding and layering. For example, I'll embed mylar and bullion beads in the acrylic or gel, then I'll do some hand painting or stamp a pattern on the nails, and then I'll throw on rhinestones or sequins. Mixing the techniques gives the nails more depth and complexity than just using one. I also enjoy experimenting with different nail shapes. I like to use my drill to carve the sides of the nail and the free-edge into delicate patterns. Mark my words, the next craze after textures will be crazy custom free-edge shapes!
What is your craziest/funniest nail story?
One of my clients works at a concert venue in Tampa. Katy Perry was performing there one weekend. Katy actually stopped and said her nails were "stunning" and "gorgeous." I could have died! I yelled at my client, "Well?! Did you give her my CARD?!" Seriously Katy, next time you're in Tampa… call me.
What tip can you offer to other nail technicians?
A lot of nail technicians find me online or through my published work and ask me how I do it: How did I get my work in magazines? How did I get my work on runway models and on HSN? How did I build such a great portfolio? It is EASY! Get yourself out there! Join a modelling/photography community online, make some contacts, respond to some casting calls, and start working on photoshoots. Get your work online. You want to get published in a magazine? Email the managing editors and ask how! Send things in! I have never once sent something in that didn't get published. The trick is to pour yourself into it. Cell phone pictures taken at your desk are great, but they're not good enough to get you really noticed. If you want to get attention and recognition, you have to take it ten steps further. Partner up with a photographer and a makeup artist. My friends Cyn Cervantes (a makeup artist) and James Monahan (a photographer) are my team. Our shoots all center around showcasing our individual skills. It costs us nothing but our time and supplies. It is incredibly fun and it's always great to see your work get recognized and appreciated by others!
Do you have anything else you'd like to add?
Watch tutorials, follow blogs, and experiment to learn new techniques and keep yourself on the cutting edge! Oh, and always price your work appropriately! You deserve to be properly compensated for your time and skills. My clients will drop anywhere from $10-$150 on nail art alone depending on what I'm asked to do!
You can find Tina Alberino on the web:
In the NAILPRO User Gallery: Shoots and Taken at Work
Portfolio: www.tinaalberino.com
Spa: Alerissa
Pinterest: My Nail Art
Blog: This Ugly Beauty Business
Click here for more Nailed Down! interviews »
Would you like to be featured in NAILED DOWN? Post images of your nail art to our User Gallery. We'll be highlighting outstanding artists based on those submissions! (minimum six pictures to qualify for consideration) NAILPRO reserves the right to edit submissions for length, grammar and clarity.