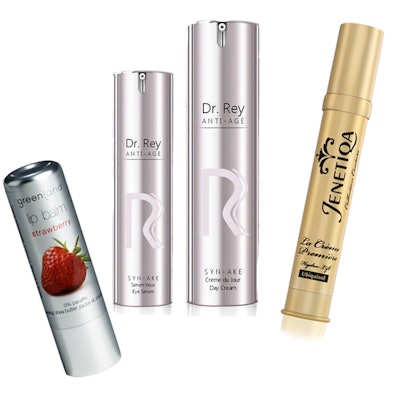 The Discover Beauty program, an exclusive initiative of Cosmoprof North America (CPNA), returns for its seventh successful year of matching leading retailers with emerging beauty brands in 2013. Companies from all over the world must be approved to participate in Discover Beauty, ensuring an exclusive array of unique, cutting-edge brands that are sure to be the "next big thing." For these brands, CPNA show organizers arrange pre-scheduled sales meetings and events with important retailers; however, the area is open to all attendees throughout the 3-day event. CPNA is proud to announce the Discover Beauty line-up for 2013: African Botanics, Control Corrective Skincare Systems, Doll Face Beauty, Dr. Rey Anti-Age Skin Care, Fairiche, Greenland Body Care, Jenetiqa, Layla Cosmetics, Karora Cosmetics, Manuka Doctor, Marilou Bio, MDSolarSciences, Million Dollar Hair, Mirabella Beauty, Montiel, Skin&Co Roma, True Girl Skin Care and VitaMan.
The Discover Beauty program is a high-end, curated section centrally located on the show floor combining the best of both worlds: a one-on-one customized buyer program complete with pre-arranged face-to-face meetings to take place in private meeting room spaces as well as a traditional exhibition presentation. This allows the brands to enjoy the exposure to all attendees at the show, but it also guarantees the face-to-face time with select specialty retail buyers to secure placement into key accounts.  
All Discover Beauty brands are automatically enrolled for the 2013 Discover Beauty Award. This award is given to one brand, which is recognized for its creativity in concept, packaging and overall ability to succeed in this competitive retail market. The winner is selected by industry leaders, beauty editors and participating retailers. The Discover Beauty Award winner will be announced on the evening of Sunday, July 14, 2013, as part of a private reception.
Continue to find out more about this year's Discover Beauty brands!
AFRICAN BOTANICS – SOUTH AFRICA
African Botanics is a luxury beauty brand; the first to offer a curated collection of pure, powerful indigenous South African botanicals merged with fair trade and wild-harvested Marula oil. Their Marula collection is a modern day skin care miracle with potent anti-antioxidants, omegas, nutrients and the brilliant benefits of therapeutic essential oils that are perfectly hand crafted to transfuse the true essence of Africa's nature. 
CONTROL CORRECTIVE SKINCARE SYSTEMS – USA
Control Corrective Skincare Systems is all about transformation. Their purpose is twofold — first to attain and then to maintain the health and beauty of the skin. Offering comprehensive, collection-based skincare with a deep problem/solution focus, Control Corrective formulas deliver real life results in a practical and accessible way.
DOLL FACE BEAUTY– USA
Behind every pretty face is Doll Face. Our clever-ful active ingredients are fused together with delicious skin care formulas that lavish skin with super-effective solutions to keep skin looking sparkling, radiant, renewed and youthful. Doll Face Beauty unleashes The Power of Pretty!
DR. REY ANTI-AGE SKIN CARE – USA
Dr. Robert Rey, celebrity plastic surgeon and star of E! television's Dr. 90210, launches his anti-aging skin care line with SYN®-AKE an anti-wrinkle agent which guarantees highly effective, clinically and dermatologically tested and proven cosmeceuticals for women and men who demand the very best that skincare science can offer.
FAIRICHE – USA
Fairiche gives women the tools to reveal younger, smoother and more radiant skin. Utilizing new formula technologies and innovative ingredients, Fairiche creates problem solving skincare platforms, all enhanced with skin luminosity benefits. The formulas are developed with a luxurious sensibility without sacrificing performance. Fairiche uses safe, efficacious actives as opposed to unsafe materials that are commonly found in the marketplace.
GREENLAND BODY CARE – NETHERLANDS
Greenland, a natural and organic bath and body brand, uses the utmost care when developing its products. The fruit extracts, essential oils, milkies and natural butters in combination with the stunning packaging and design make greenland products not only great for your skin, but also for your senses. Greenland treats your senses, naturally.
JENETIQA – CANADA
Jenetiqa invites you to discover their scientifically innovative luxury skin care line based on the science of Ubiquinol. Ubiquinol is a recently discovered, patented and highly bio-available antioxidant that fights free radicals at the source and greatly enhances cellular energy and cellular turnover. Jenetiqa's innovative products are specifically formulated to fight all signs of aging for eternal youth and an incredible skin experience.
KARORA COSMETICS – IRELAND
Irish beauty brand KARORA, offers modern women a glamorous choice in the natural beauty category with a true skin caring approach to faux tan. KARORA's botanical bronzing collection delivers World first custom colour technology, with natural and organic bronzing formulas enhanced with signature ingredients of açaí berry and argan that provide intense skin treatments. This is pure bronzed perfection with a botanical twist at luxe for less price points.
LAYLA COSMETICS – ITALY
Layla Cosmetics has been creating trend setting and cutting edge products from Milan for over 70 years. Fusing the latest in technology along with an Italian fashion influence, Layla reveals their newest collections for the first time to the U.S. market unveiling ground-breaking innovation and nail art to the industry. 
MANUKA DOCTOR – NEW ZEALAND
Manuka Doctor is an independent brand from New Zealand that has developed a range of groundbreaking formulations based on two key ingredients; Certified Manuka Honey, known for healing & moisturizing & the brands' own patented Purified Bee Venom: refined, concentrated and 100% bee-friendly, that nurtures cell regeneration and encourages collagen production. The brand has earned cult status in the UK anti blemish and anti-aging skincare category, earning the title 'nature's answer to botox'. 
MARILOU BIO – FRANCE
MARILOU BIO believes in making certified organic cosmetics affordable to all women who want to pamper themselves while being ecofriendly.  Their goal is to introduce their customers to ecological and cleaner products that benefit the environment. 
MDSOLARSCIENCES – USA
Everyone knows the sun is the skin's number-one enemy, but most of us still skip sunscreen, finding what's available to be heavy, pore clogging, and filled with irritants.  Faced with this knowledge, dermatologic oncologist Dr. Robert J. Friedman, a Clinical Professor at the NYU School of Medicine, with a commitment to advance the science of photo (sun)-protection and skin cancer prevention, founded and created, with his dermatologic colleagues, MDSolarSciences™. 
MILLION DOLLAR HAIR – NORWAY
Million Dollar Hair belives that it is important to use natural ingredients in their products because research has proven that natural ingredients provide the best results for hair and skin care. Million Dollar Hair products have healing properties that will help your hair in a natural way. Without harsh man-made chemicals.
MIRABELLA BEAUTY – USA
Mirabella is makeup with personality. Clean cosmetics in fashion-forward colors create beautiful looks for whatever your day may bring. Vitamin-enriched long-lasting formulas moisturize and condition while providing antioxidant protection and anti-aging properties.These mineral-based products are Paraben-free, Talc-free, Lead-free, Gluten-free, FD&C/D&C Dye-free.
MONTEIL – GERMANY

Montiel – Intelligent concepts for your beauty. With its firm commitment to intelligent care concepts MONTEIL's research basis for new developments is biotechnology as an applied subject area, which combines scientific and medical knowledge with engineering science skills to develop technical solutions based on the models of nature.
SKIN&CO ROMA – ITALY
In 1953, Giuseppina Balestra got the idea of bringing botanical oils based on her old traditional recipes into her skincare line. Science has now shown that the fresh ingredients in these oils, such as Truffle and Argan contain extremely beneficial compounds in their natural form and are now scientifically proven to have great anti-aging benefits.
TRUE GIRL SKIN CARE – USA
Teens shouldn't have to suffer with pimples and blackheads unnecessarily. Basic daily steps in keeping the skin clean with gentle, all-natural ingredients will help stop that breakout from EVER happening. True Girl Skin Care will set them on the right path to healthy, clear, scar-free skin – for life!
VITAMAN NATURAL GROOMING FOR MEN – AUSTRALIA
Born from the harshness of the Australian environment, nature is at the very core of the VitaMan Brand.  The first skincare company to introduce the therapeutic properties of unique native Australian botanicals, VitaMan has created a natural, high performance line that is results driven, free of harmful synthetic chemicals, artificial fragrances and colours. vitaman.com.au
[Images courtesy of Y Public Relations]