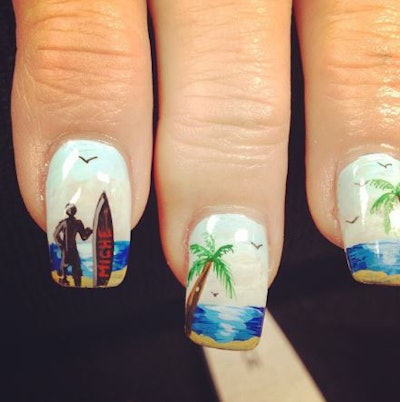 The sun especially illuminates nail art in the summer, so bright, intricate designs are a must for clients who want unique nail art. These professionals have a variety of backgrounds, but also a great amount of skill. The vast range of their summer-themed art will surely spark your imagination!
Click through to see them all.
This set of nails by Turquoise Nail Salon has a relaxed vibe perfect for a beach day.  You can read our "Nailed Down!" interview with Asami Sasaki here:  
[Image: Asami Sasaki; Nailrpro: soft-gel-design]
OPI Guest Nail Artist, Robert Nguyen, created this incredibly detailed beach scene manicure.
[Image: Robert Nguyen; Instagram: @nail_guy]
MesiaszCiszy is a talented nail artist known for her fantastical scenes. Check out her tutorial for these mermaid nails.
See more of her how-tos on her Youtube channel.
[Image: MesiaszCiszy; Nailpro user @MesiaszCiszy NailArt]
Nail tech Kelsey Collins came up with these sweet watermelon nails for a client.
[Image: Kelsey Collins; Instagram @kaycollins92]
Naomi, owner of Naomi Nails in the Netherlands, made these digits delightful with an assortment of fruit.
[Naomi Labyed; Instagram @Naominails]
Naomi also brought paradise to these nails, complete with palm trees and adorable parrots!
[Naomi Labyed; Instagram @Naominails]
Robert Nguyen went for a tropical theme with these purple hibiscus tips.
[Image: Robert Nguyen; Instagram: @nail_guy]