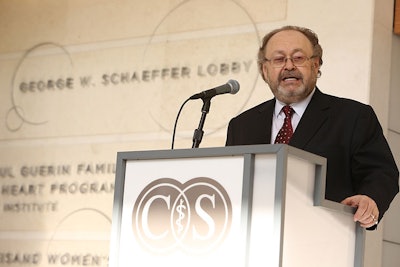 George Schaeffer, President and CEO of Aloxxi International, and Founder of OPI Products, celebrates the opening of Los Angeles' Cedars-Sinai Medical Center's Advanced Health Sciences Pavilion.
In 2011, Schaeffer helped fund the Advanced Health Sciences Pavilion, and as a thank you, the hospital has named the lobby after the beauty industry philantropist.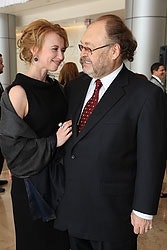 "Cedars-Sinai is my neighborhood hospital of choice and the great doctors and staff have provided wonderful care for me and my family, this is my way of saying thank you," says Schaeffer, pictured here with wife Irina. "This building will open a new gateway to the Medical Center and bring patients and research together under one roof in a way that is exciting to the hospital and beneficial to patients near and far. I am convinced of the promise of Cedars-Sinai as a leading force in medicine and it is a privilege to express my faith in the future through this gift."
"This visionary gift from George Schaeffer demonstrates forward-thinking philanthropy," says Arthur J. Ochoa, Senior Vice President for Community Relations and Development. "It provides critical support for novel ideas that fosters advanced medical care."
Approximately 1,900 patients, guests, and staff will enter the Advanced Health Sciences Pavilion each day, and all of them will pass through the George W. Schaeffer Lobby on the plaza level. The 11-story, 440,000-square-foot facility offers convenient state-of-the-art outpatient care and houses Cedars-Sinai's nationally renowned Heart Institute and Neurosciences Departments, all in one healing, eco-friendly building prominently located on the corner of San Vicente Boulevard and Gracie Allen Drive.
Nailpro Publisher Deborah Carver is on hand to witness the opening and help celebrate her longtime friend's good fortune: