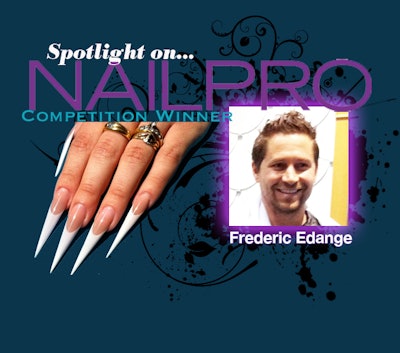 Welcome to Spotlight on… NAILPRO Competition Winners.
Here we interview outstanding Nail Artists who have placed in past Nailpro competitions and highlight their work.
This week we speak with Frederic Edange, who received first place in the NAILPRO Long Beach 2013 Freestyle Sculptured Novice Devision
Where do you live?
South France on the Cote d' azur
Which competitions have you won?
2009
2nd Place Tip Box
2011
2nd Place Sculptured French Nail Nobless in Dusseldorf
4th Place Sculptured French Global Nail Cup Helsinki
1st Place Team Relay Global Nail Cup Helsinki
2012
5th Place Salon Success in Long Beach
5th Place Tom Holcomb Cup in Rome
2013
1st Place Freestyle Sculptured Nail in Long Beach
What was your first competition?
My first competition was on the Magnetic France team where I finished 2nd place out of 100 competitors. It was tip box competition with no theme. We had to use the aquarell painting, gel and 3D acrylic. My representation was called "Angel Woman" and she brought me luck!
What made you decide to compete?
I think my competitive spirit always has been a motivation in me. I was born with it in my blood. My past as a military commando green beret Marine was decisive for the rest of my professional life and my personal choices. I believe that there are no great things that can stop me! 🙂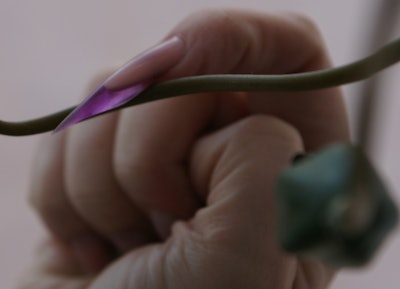 Why do you enjoy NAILPRO competitions as compared to other nail competitions ?
I love NAILPRO competitions because they have regulations that are well defined in advance and the judges are impartial. It is very important because there is a fierce competition between large nail companies around the world.
Carla and Jewell are two major professionals who know the craft and criteria of the various competitions, which is very important. There are many competitions in the world where the judges have never been competitors. They don't have any experience nor are true professionals. This is my main reason for my participating in NAILPRO competitions.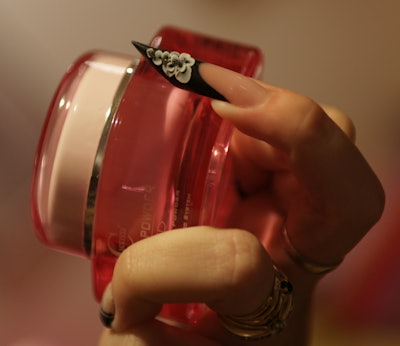 Where do you work?
I have my own salon where I work in collaboration with Emese Koppanyi. She was the winner of the World Championship in 2010 in Monaco in sculptured pink & white and she is a three time Champion of Europe. We focus exclusively on technology. We are together in our working lives and love lives. We also have projects in the U.S. to develop individual and collective training, because there is a lot of work on this level!
What/Who inspires your work?
I always want to reach perfection, but perfection does not exist…
Which tool(s) can't you live without?
My decimetre, because I like the precision work.
What is your favorite technique or style?
I love the bridge nails. They have aerodynamic shape and complexity!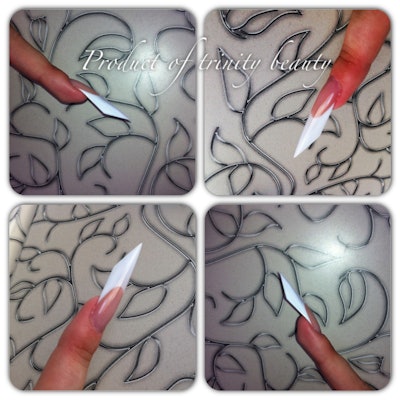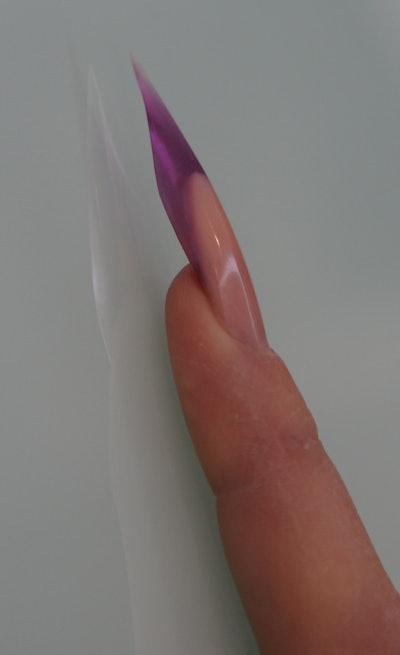 What tip can you offer to other nail competitors?
There is work … A lot of work … 😉
Anything else you'd like to add?
You can never compare a painter "Picasso" with "Van Gogh" because their techniques are so different. With nails, this is the same. There are some basic rules to understand and you must put in a lot of time and a lot of practice.
And finally, I'm an individual, but if somebody makes a good offer to me – from the professional nail industry in the USA- I'm open for it. 😉 I love this country!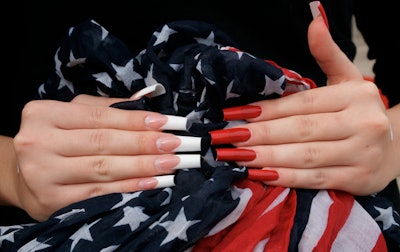 You can find Frederic Edange on the web:
Frederic and Emese's Website: www.frederic-edange.com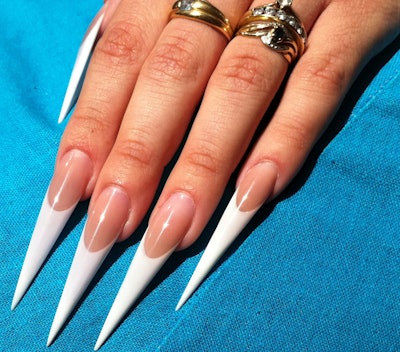 Click here to learn more about NAILPRO's Competitions!
NAILPRO reserves the right to edit submissions for length, grammar and clarity.