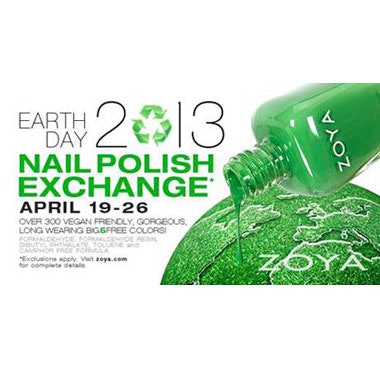 Hooray for Earth Day! Zoya is helping you do a little spring cleaning with the return of the Earth Day Zoya Nail Polish Exchange for 2013. Clean out your nail polish wardrobe and get rid of old nail polish that may not be BIG5FREE (free of Formaldehyde, Formaldehyde Resin, Toluene, DBP and Camphor) and exchange it for a greener alternative: long-lasting, award-winning, healthy Zoya Nail Polish bottles!
Now's the perfect time to make the switch to an eco-chic beauty routine! From April 19–26, 2013, exchange your old, unwanted nail color for Zoya Nail Polish for only $4 per bottle plus shipping and handling fees. Rest assured—ZOYA will properly dispose of your old polish.
Here's all you need to do!
1.  Go to www.zoya.com and pick out the polishes you would like (excludes all Zoya PixieDust Collection shades) and add them to your cart. You must select at least 6 bottles and no more than 24 bottles of polish (salon accounts minimum 12 maximum 48 bottles.)
2. Apply the code (copy and paste for best results):
ZOYAEARTH2013
3. Your order value will be adjusted to reflect a 50% discount (we use these funds to properly dispose of the old nail polish).
4. SUBMIT your order!
Then Zoya will ship out your NEW polish! This is what your order should look like…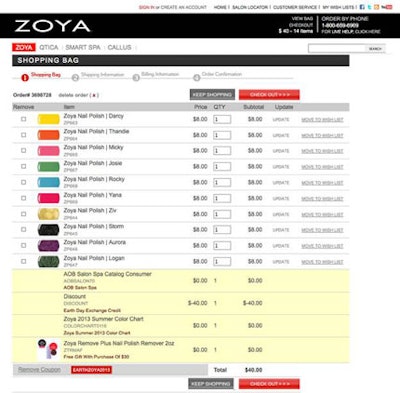 Once you get your order:
Here's where the exchanging happens…
1.     Ship back the equivalent number of bottles you received to the return address below (i.e. If you ordered 6 bottles of Zoya, you would send back 6 non-Zoya polishes). Please check with your carrier on the proper way to ship nail polish.
2.     Include a copy of your order.
To clarify the exchange: You do not have to send the exact amount of bottles that you are ordering. You can send any quantity up to that amount. You can also donate. If you decide you don't want to do either, it's OK—"the offer is not contingent on customer returning polish." Zoya will still love you and will send the Zoya polishes… they'll just send you on a guilt trip for a while!
Ship your old nail polish to:
Art of Beauty, Inc.
c/o Polish Exchange
5060 Taylor Rd, Unit D
Cleveland, Ohio, 44128, USA
IMPORTANT!
The bottles you send in cannot be Zoya, Qtica or Nocti polishes (but they can be any other brand). This offer is only good for 1 week, so hurry—don't wait!
[Images: Courtesy of Zoya]