The world's first Hello Kitty-themed spa opened at Town Centre Jumeirah, Dubai, in 2012 and is the first character-branded spa in the Middle East. It caters to "Kitty Queens" and "Young Princesses" with natural nail and beauty products within an environment that represents the beloved Japanese character, Hello Kitty. This purrrrrfectly posh spa is poised to transform the face of beauty and pampering, according to Fatimazahra Mohamed, marketing and PR assistant manager at Sharaf Retail. The cuteness factor is high at this sugary-sweet salon, but don't let that fool you: Ms. Kitty's loyal fans are treated like royalty with an opulent fairytale spa experience.
5 Reasons Why We Think It's Fabulous:
1.) Girls of all ages are celebrated.
The spa offers separate service menus for "Queens" and "Princesses," using water-based nail polish for a young girl's Kitty-cure and a custom massage lotion to go along with the woman's pedicure. Organic products are available for children and adults, with additional product choices for adults. Both mommies and singles are able to indulge and relax in the kid-friendly environment; if a child's service finishes before her mother's, the little princess will be led over to the Hello Kitty goodies that are for sale or the Kitty Cafe, which sells baked goods, teas, juices, pink lemonade and, of course, organic Hello Kitty cupcakes.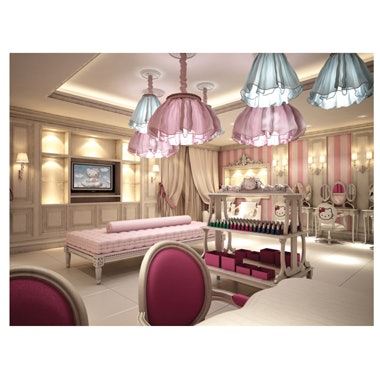 2.) This one-stop shop provides everything.
Nails, facials, hair and makeup—did we mention the snacks?—are all available under one roof. The Hello Kitty Spa menu includes beauty packages for an all-day, head-to-toe pampering experience, and BFF packages where clients can enjoy being pampered with their bestie. A separate party area is available for groups of little girls, bridal showers and bachelorette parties, and after all that grooming and pampering, clients can indulge their sweet tooth at Kitty Cafe.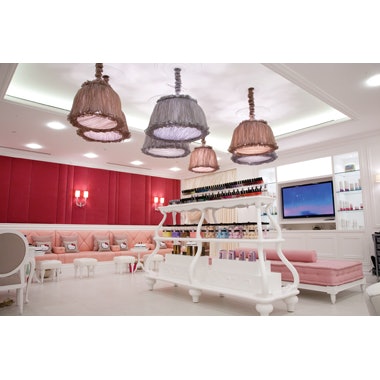 3.) The plush, elegant spa design is unique and comfortable.
There's no mistaking where you are after entering the spa: Hello Kitty's face peers at you from every wall, shelf and cupcake topping. But the salon doesn't compromise comfort for branding. Comfy pillows and soft lounges are scattered throughout the space, enveloping clients in a relaxed atmosphere as they enjoy their services. The luxurious interior, with flourishes of pink and red, include vintage-inspired furnishings like the white vanity stations used for hair styling and displaying products, while a large plasma screen overlooks the salon floor. It's almost as if you've fallen down the rabbit hole and into Wonderland—but instead of finding the Cheshire Cat, it's Hello Kitty's face that greets you.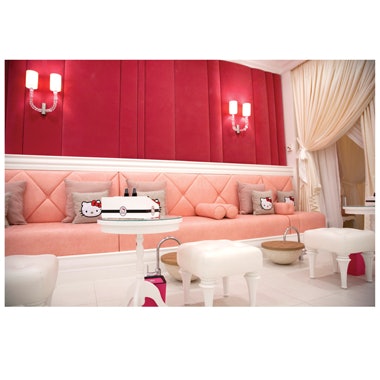 4.) The staff is professional.
The stylists and nail technicians have extensive backgrounds with proven track records in their field. They continue to research and practice new styles and techniques in hair, nails and styling throughout the year and give their undivided attention to their clients on a daily basis. The staff also understands the importance of sanitation and cleanliness.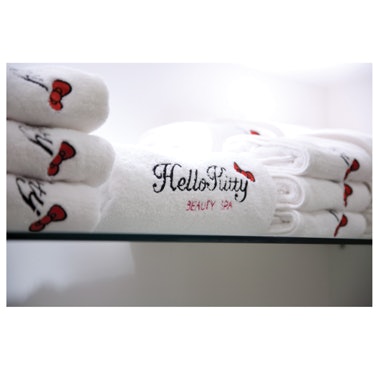 5.) It's based on Hello Kitty!
Three decades since Hello Kitty made her debut on a small coin purse in Japan, her popularity has multiplied exponentially from Japan to all around the world. This iconic wide-eyed feline has a way of bringing smiles to everyone she encounters, so it seems fitting that she finally has her own place of pampering. "The Hello Kitty Beauty Spa is an innovative extension to the brand which allows a younger audience to experience the luxury and pleasures of a day at the spa within an environment that represents the brand," says Fatima Sharaf, director of Sharaf Retail.
Year Founded: 2012
Owner: Sanrio License / Sharaf Retail
Website: hellokittybeautyspa.com
Hours: Open daily 10 a.m. – 10 p.m.
Address/Phone: Town Centre Jumeirah, Dubai; +971 4 344 9598.
Best-Selling Service: Manicure
[Images: Hello Kitty Beauty Spa]