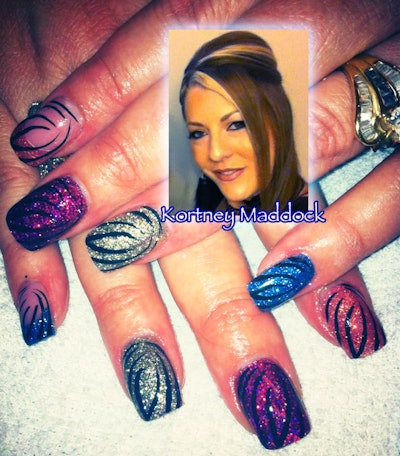 Welcome to NAILPRO's NAILED DOWN where we "nail down" the details of selected nail design artists from our User Galleries.
This week we visit Brentwood, CA!
Meet Kortney Maddock:
Where do you work?
I am the owner of Fingers & Toes.
How would you describe yourself?
I would describe myself as a very dedicated, passionate, perfectionist (and not just about the nails I do). My disinfection process and my schedule are also very important to me.
Tell us about how you got started in the nail industry.
I was always obsessed with nails as a little girl. I would glue on new nails every few days and paint them, like, 20 times. My nails were always wet and under construction. My mom was forever warning me about how bad it was for my nails (although, she always wore them herself). After she would come home from the salon, I always stared at her beautiful nails, longing to have a professional set of my own. She finally gave up when I was about 15 years-old and let me get a set of my own. Thank God! I'm not saying that's what I recommend. It was just a huge passion of mine from a very young age. After years of begging, she eventually granted me my wish!
That is when my obsession became my passion for nails. Obviously, that was the path I knew I wanted to take right after high school. I started attending Beauty College and, well, here we are 15 years later. I have now owned my own Salon Suite for the last 4 years and still LOVE my JOB! The supportive and loyal clients are what keep me going and I look forward to many more years in this profession 🙂
What/Who inspires your work?
I would have to definitely say that my wonderful clients inspire me. I'm a creative person, so, of course anything that has to do with nail art interests me! As far as who inspires me, well I am a huge fan of Greg Salo and Melissa De La Cruz (Garcia) from Young Nails Company. They are so truly talented in so many ways. They have taught me to open my mind to creativity and the future of nails!
Are there any tool(s) you can't live without?
Honestly, I would have to say my education. Without that, I would never have such success. I continue to update myself through seminars and classes offering the newest trendy techniques.
Do you have a favorite technique or style?
My style is whatever the client is in the mood for. I am known for a wide variety of styles and shapes.
What tip can you offer to other nail technicians?
Keep your mind open to new techniques and educate yourself as much as possible to insure you are at your personal best!
You can find Kortney Maddock on the web:
In the NAILPRO User Gallery: Fingers & Toes by: Kortney
Salon Website: www.fingersandtoesdvac.com
Click here for more Nailed Down! interviews »
Would you like to be featured in NAILED DOWN? Post images of your nail art to our User Gallery. We'll be highlighting outstanding artists based on those submissions! (minimum six pictures to qualify for consideration) NAILPRO reserves the right to edit submissions for length, grammar and clarity.