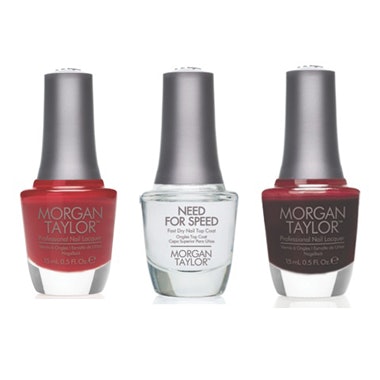 New polish line Morgan Taylor is named after Morgan Haile and Taylor Daniel, daughters of Hand & Nail Harmony (Gelish) CEO and Founder Danny Haile and Executive VP David Daniel. Their site only just officially launched, yet their lacquers have already been up and down runways in New York, London, and Milan for Fashion Week. Paired with well-known designer collections like Betsey Johnson and Victoria by Victoria Beckham, Morgan Taylor lacquers are making a grand entrance into the professional market. Click through to see which polishes were introduced at each event.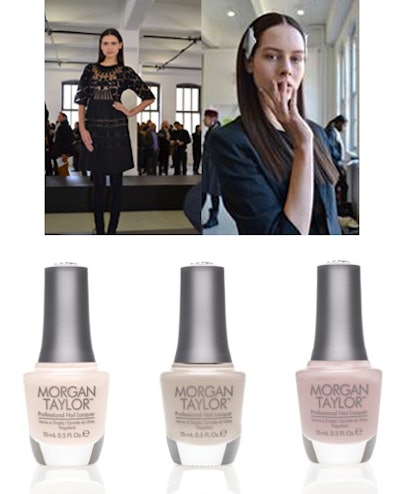 At New York Fashion Week, the Catherine Malandrino line was paired with a nude nail that was perfectly engineered by nail tech Michelle Class to match every model's skin tone. By mixing the light neutral It's In the Nude, soft brown Birthday Suit, and a touch of rose Polished Up, the final color complemented all skin pigments.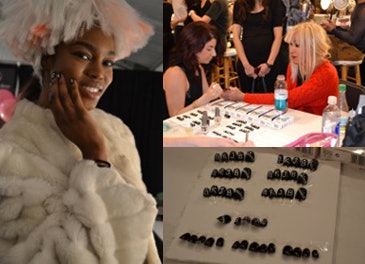 Also in New York, the Betsey Johnson presentation burst with neon colors and mixed workout clothes with everyday fashion. To go along with this unignorable collection, Class painted the white letters 'B,' 'J,' 'K,' and 'A' on each fingernail in white overtop Morgan Taylor Little Black Dress, which stood for "Betsey Johnson Kicks A**." In the evening, the nails were changed to All White Now to emphasize the night time clothing line.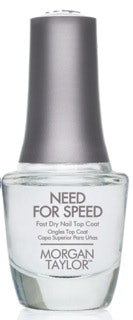 The modern Victoria collection by Victoria Beckham featured dark styles with splashes of color on the New York runway. The look was completed by short, natural nails topped with the Morgan Taylor Need for Speed Top Coat.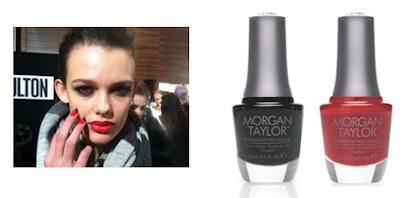 Holly Fulton made a feisty entrance on the London runway with bold red lips, leather skirts, matched by crimson and red French stiletto nails. The dramatic look was created with Morgan Taylor Man of the Moment and Little Black Dress.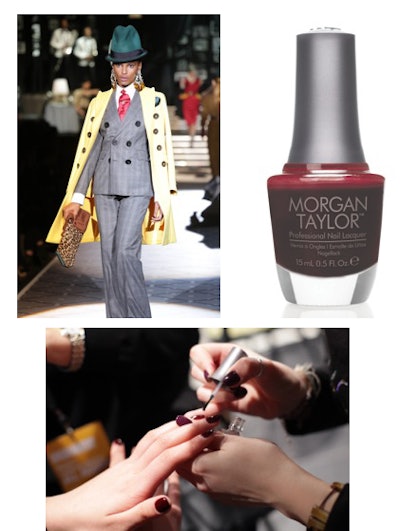 In Milan, DSquared2 took 1940's fashion to a much sassier level with tailored jackets and driving gloves. The sophisticated deep wine-colored From Paris With Love topped off the look.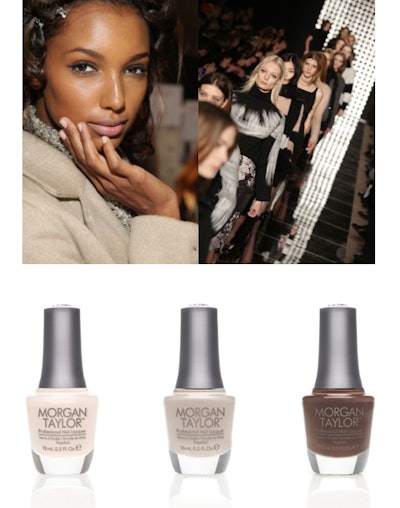 The Milan Les Copains runway was filled with neutrals, stripes, and wool sweaters. Creative director of Morgan Taylor, Alesia Lanzo blended In the Nude, Birthday Suit, and the warm Touch of Latte Please to bring the designs together.
[Images: Morgan Taylor]