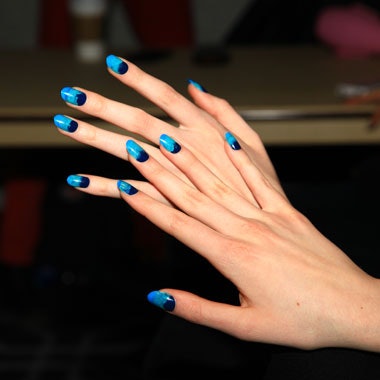 Dermelect Cosmeceuticals, the brand that introduced ME, the first peptide-infused anti-aging nail lacquer, collaborated with CFDA designer, Daniel Vosovic to create exclusive nail art looks for his AW 2013 Presentation at the W Hotel in Union Square.
 
Daniel's AW'13 collection was inspired by the beautiful aquatic Flora and Fauna, leading to the creation of three new hues that will be named by the designer and launched as the ME Fall Collection. Featuring a deep teal, perfect navy and graphite mushroom, the colors invoke the regal and refined woman.
 
Celebrity Nail Tech Elle, who is a member of Dermelect's Board of Advisors, requested the help of Rose Velez, manicurist to the stars, to create the two nail looks. The first look included a bold ombre using the teal and navy, while the second look was created with the mushroom shade and topped with a gold striping tape. Elle and Daniel desired to create nail art looks that can easily be achieved at home.
 
Designed for women who desire to grow out long, strong, natural nails without compromising fashionable fingertips, ME's technologically advanced, salon-strength formulations are 3-Free and contain ProSina, a pure protein extract derived from New Zealand sheep's wool that strengthens the nails and nourishes the skin.
[Image courtesy of Entertainment Fusion Group]