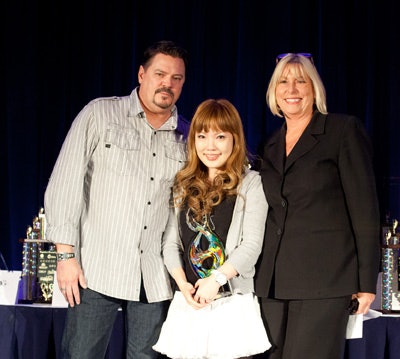 The first annual industry award in honor of legendary nail tech Tom Holcomb was awarded at ISSE Long Beach.
After an emotional and heartfelt tribute to the renowned nail artist, Jewell Cunningham, competition director of the NAILPRO Competitions and the NAILPRO Cup Series; and Jeff Holcomb, brother of the late Tom Holcomb and owner of the Tom Holcomb brand, bestowed Azumi Kanene with the prestigious Tom Holcomb Inspiration Award.
The Tom Holcomb Inspiration Award recognizes a nail professional whose accomplishments live up to the standards of excellence set by the late Holcomb.
Tom Holcomb was a nail industry icon, innovator and competitor who passed away in 2011 at the age of 44. Award-winning nail artist Kanene was the perfect recipient because of her dedication, amazing talent and overall commitment to the nail industry.