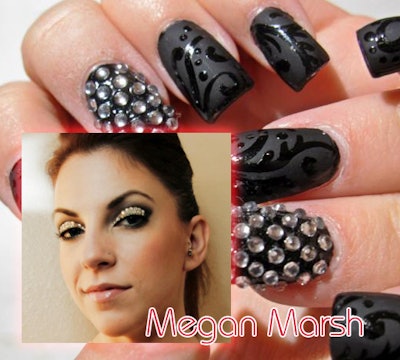 Welcome to NAILPRO's NAILED DOWN where we "nail down" the details of selected nail design artists from our User Galleries.
This week we visit Clovis, California!
Meet Megan Marsh:
Where do you work?
Serendipity Salon and Spa
How would you describe yourself?
My life is driven by my passion for creativity in all forms. I have always enjoyed working with my hands and creating works of art since I was a little girl. Besides my job as a nail artist, I also enjoy painting on canvas, photography, sewing, drawing and making music. Art always has – and always will be – a huge part of my life.
Tell us about how you got started in the nail industry.
I started painting nails when I was a wee one, always trying to be as creative as possible. I can remember my very first bottle of nail polish… electric blue. My grandma told me that my fingers looked like they belonged on a dead person. I thought it was fabulous, and let's face it, it totally was! I have been lacquered up since I was 8 years old. Naked nails are a sin!
I was the "go to" girl in high school for prom and formal nails. I had lines out my front door the day before the dances while I painted nails at my kitchen table. This continued on as I got older. My friends always asked me to paint their nails with crazy designs and my kitchen table became blemished with nail polish drips and acetone stains. After years of enjoying nail art as a hobby, my father-in-law one day announced over dinner that because I love doing nails so much, he would like to send me to school to be able to do it professionally. I thought it was a great idea and a wonderful gift. I have been doing nails ever since and absolutely love going to the salon every day.
What/Who inspires your work?
My biggest inspirations for nail art are Sophy Robinson, Madeline Poole and Wah Nails. I think the best place to get inspiration is also on the internet. There are SO many fantastic nail artist out there that post pictures daily. I have a Pinterest board full of nails I want to try someday.
Are there any tool(s) you can't live without?
My liner brush, acrylic paint and an orangewood stick.
Do you have a favorite technique or style?
My favorite nails to paint are intricate hand painted pop nail art designs. I always love a good challenge!
What is your craziest/funniest nail story?
I had a mother and her daughter come in for a side-by-side pedicure. I was working on clipping and filing the mother's toes, and I got to her pinky toe. As I grabbed her pinky toe to start filing the nail, she asked me to rip it off. I didn't think I heard her correctly, so I asked her to repeat herself. She said, "I want you to rip off my pinky nail. I do it all the time. They are bad nails." When I looked at the nail, it was perfectly healthy and attached! When I explained that I would not rip it off because it was a healthy nail, that she would surely bleed all over and she could get an infection, she got very upset and angry with me. I couldn't believe she wanted me to rip off her nails with nippers!
What tip can you offer to other nail technicians?
Besides being a creative outlet for me, one of my favorite things about being a manicurist is the stories that I get from different women. I have had women of all walks of life with amazing stories to tell. My advice is to be a good listener! When women get together, they love to talk and share. Be interactive with your clients, talk to them and make them feel special. Sometimes, it's not just about great looking nails, but the experience while they are in your chair too!
Anything else you'd like to add?
Try out everything! I love trying out new products, designs and techniques. Never be afraid to try something new.
You can find Megan Marsh on the web:
In the NAILPRO User Gallery:
Blogspot:Never a Naked Nail
Pinterest: Nails I've Done
Click here for more Nailed Down! interviews »
Would you like to be featured in NAILED DOWN? Post images of your nail art to our User Gallery. We'll be highlighting outstanding artists based on those submissions! (minimum six pictures to qualify for consideration) NAILPRO reserves the right to edit submissions for length, grammar and clarity.