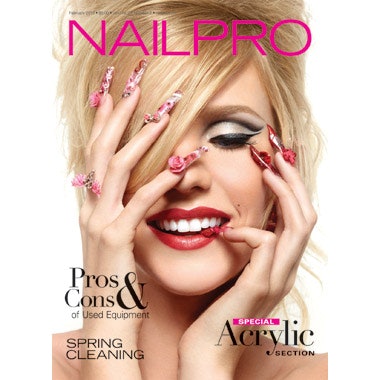 See what's in the February issue of NAILPRO! Our digital edition offers you everything in the print magazine PLUS live hyperlinks to products and advertisers as well as video and audio! Download the NAILPRO app from iTunes and read the digital edition on your iPod, iPhone, iPad and/or iTouch!
FEATURES
SPECIAL ACRYLICS SECTION » 
All About Acrylics
The nail professional's many titles »
What's in a Name?
Learn your clients' habits by studying their nails » 
Nails Tell All
Update your salon's decor to stay competitive  »
Renovate Without Headache
Tips on buying new and used equipment »
Hand-Me-Downs
COLUMNS
Texture messengers straight from the runway » 
Polished Look
Jessica Vartoughian of Jessica's Cosmetics » 
Beauty File
Chicago's Asha SalonSpa »
Savvy Salon
Platinum nails from the big music award shows » 
Hollywood File
Tips to create competition-ready nails  »
Workshop
"Tribal Beauty" nail art » 
Art Gallery
The ins & outs of becoming a medical nail tech  »
Nail Clinic
Artistic Nail Design's Rock Hard Gel and GP Gel Polish from Cácee  »
Pro Talk
Jeweled accents for trendy polishes  »
Perfect Pairs