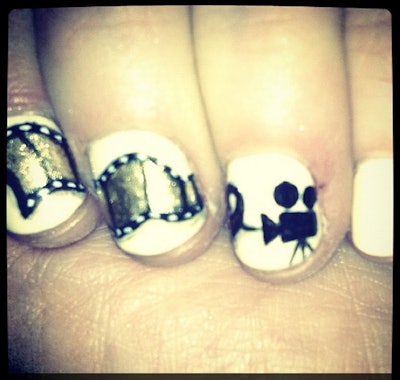 Our eyes were glued to the mani-cam on the 2013 Golden Globes red carpet! While many of the stars opted for neutral manicures, some chose to take a risk with more daring nail art choices.
Here are highlights from the most eye-catching nail designs that graced celebrity's nails at the Golden Globes.
Zooey Deschanel tweeted a photo of her movie camera and film strip nail art by "MAN-icurist" Tom Bachik.
[Image: Twitter]
Christina Aviles gave Sarah Hyland an edgy manicure that incorporated gold wire.
[Image: Twitter]
Kelly Osbourne hearts original nail designs.
[Image: Twitter]

Adele's nails by celebrity manicurist Kimmie Kyees featured a custom gold-infused top coat.
[Image: Getty Images/Steve Granitz/WireImage]