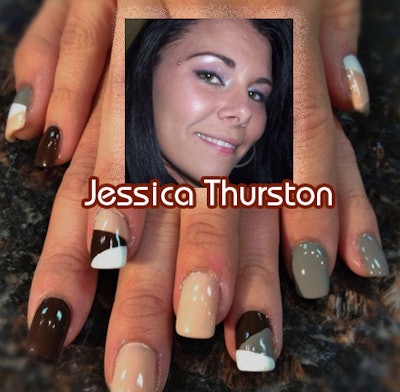 Welcome to NAILPRO's NAILED DOWN where we "nail down" the details of selected nail design artists from our User Galleries.
This week we visit Connecticut.
Meet Jessica Thurston:
Where do you work?
Touch of Sun Tanning Salon owned by Meredith Hutchinson. She is also a nail technician and fantastic boss! She runs a beautiful salon.
How would you describe yourself?
A nail junkie!
Tell us about how you got started in the nail industry.
I started when i was a teenager. I love art and my step-mother owned a hair salon. She let me do my own nails there and would take me to the salon supply store. I didn't go to school until a little later in my life and only took the classes for my own benefit, not to do nails for a living. After my divorce, I had to go back to work. If I had to start over, I wanted to do something I really enjoyed. My step-mother let me setup shop at her salon and I went from there. She passed away two years ago from Leukemia, but she was the one who encouraged me to do what I love.
What/Who inspires your work?
Anything and everything! I love searching the web for inspiration… fashion, lables, logos.
Are there any tool(s) you can't live without?
My brush!!!
Do you have a favorite technique or style?
Acrylic.
What tip can you offer to other nail technicians?
SMILE!!!!! You have to love what you do and enjoy it. It's the only way to keep the creativity flowing and produce your best work!
You can find Jessica Thurston on the web:
In the NAILPRO User Gallery:
Touch of Sun Tanning Salon Website: www.touchofsun.net
Click here for more Nailed Down! interviews »
Would you like to be featured in NAILED DOWN? Post images of your nail art to our User Gallery. We'll be highlighting outstanding artists based on those submissions! (minimum six pictures to qualify for consideration) NAILPRO reserves the right to edit submissions for length, grammar and clarity.