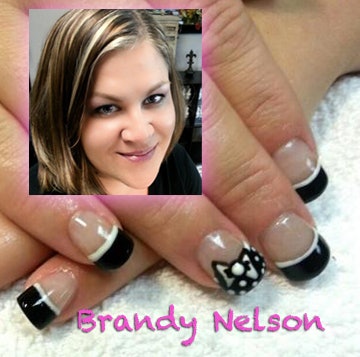 Welcome to NAILPRO's NAILED DOWN where we "nail down" the details of selected nail design artists from our User Galleries.
This week we visit Eugene, Oregon!
Meet Brandy Nelson:
Where do you work?
I lease a station at NV Salon owned by Jamie Duffield, my life long friend and mentor in the nail business.
How would you describe yourself?
I'm a self motivated former art major. I love the freedom and creativity that this industry allows me to enjoy. As a people person, I form relationships with clients that keep us each looking forward to our next appointment.
Tell us about how you got started in the nail industry.
As a kid I often considered the cosmetology field because I had relatives that worked in salons. It wasn't until much later in life, while working in a good paying office job that made me miserable, that I reconnected with Jamie. My girlfriends and I came to her shop for an evening of pampering and she convinced me to try nails. I signed up for the Nail Technology course the next day on my lunch break.
What/Who inspires your work?
My fellow nail techs and my clients inspire me most. In the salon we all learn from each other and work together trying new things. I love when clients bring ideas and pictures of nail art ideas to their appointments. I was most inspired after attending the NAILPRO show in Sacramento this past September. It was awesome to see what others in the industry were doing. The awards ceremony was so cool to watch! I want some trophies of my own! I'm only two years into my nail career and I feel like the sky's the limit!
Are there any tool(s) you can't live without?
My LED and UV lights for curing gel polish! I'd say 95% of what I do includes a gel polish service. I'd be lost without my lamps!
Do you have a favorite technique or style?
Gel Polish all the way! I've built a solid clientele in a short time by specializing in this service. All of my nail art, including my portrait pieces, are done in gel polish and custom mixes of gel polish. I can't say enough about this long lasting high performance product.
What is your craziest/funniest nail story?
Every day at NV is a new adventure. It's never a dull moment! We laugh a lot, usually at ourselves or stories from other technicians. It's only a matter of time before I have my own brush with crazy!
What tip can you offer to other nail technicians?
Find your niche! Find one aspect of the job and be the best at it. Word will get out. People will start hearing about your services and word of mouth is the very best advertising. Be prepared to struggle and work hard. Don't expect clients to find you, especially when you are getting started. You have to find them. Positive breeds positive. Believe you can succeed and you will!
Anything else you'd like to add?
I very proud to be featured by NAILPRO! Thank you to all of my amazing clients and friends who make it possible for me to do what I love every day!
You can find Brandy Nelson on the web:
In the NAILPRO User Gallery:
Click here for more Nailed Down! interviews »
Would you like to be featured in NAILED DOWN? Post images of your nail art to our User Gallery. We'll be highlighting outstanding artists based on those submissions! (minimum six pictures to qualify for consideration) NAILPRO reserves the right to edit submissions for length, grammar and clarity.