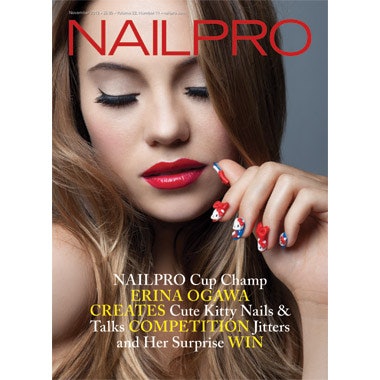 See what's in the November 2012 issue of NAILPRO!
Our digital edition offers you everything in the print magazine PLUS live hyperlinks to products and advertisers as well as video and audio!
Download the NAILPRO app from iTunes and read the digital edition on your iPod, iPhone, iPad and/or iTouch!

NAILPRO Cup 2012 Champion Erina Ogawa »
Lost in Translation
Odyssey Nail Systems takes home the NAILPRO Team Cup. »
Team Players
Business-boosting strategies for the holiday season »
Ring in the $$$
Vets share nail tips and advice. »
Student/Tech Q&A

Find the perfect shade of crimson. »
Red Haute
Technical crash course and essential product guide for nail design »
Prep School
Jewelry designer Azature enters the world of nails. »
Luxury Redefined
Offer luxury services with these cost-saving tweaks.  »
The Look of Luxe

Embroidered threads woven into fall fashion »
Polished Look
NAILPRO competitions director Jewell Cunningham »
Beauty File
Tamaya Mist Spa in New Mexico »
Savvy Salon
Ultramodern nails at the Total Recall film premiere »
Hollywood File
Create a photo album on your nails. »
Workshop
Good Girls Gone Bad: Feminine designs with an edge »
Art Gallery
Advice to end foot odor problems »
Nail Clinic
SuperNail and Venique offer tools to create glitter acrylic and a 3-step manicure. »
Pro Talk