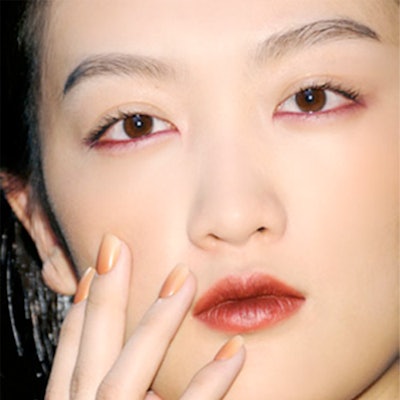 From simple and elegant soft golds and neutrals to military inspired green and intricate metallic prints, Bellacures' founder, Samira Asemanfar shares the upcoming fall/winter 2012 nail trends:
SOFT NEUTRAL TONES
Keep it simple with a soft gold or hint of cream. For a classic look, Samira suggests neutral tones such as a light rose, nude, or beige that will keep your style fresh this fall. If you are looking to add a bit of edge to this trend, don't be afraid to bring out the grey hues. At the Tibi show hands were manicured in white shades for a clean and classic look, while faded terracotta tips spiced up the Christian Cota runway.
[Image: CND, Christian Cota courtesy of Fox Greenberg Public Relations]
[ pagebreak ]
DARK AND EARTHY



Put away the neon, and bring out the deep, rich hues that will give your fall style a strong and sophisticated look. Samira recommends rustic, earthy tones for a modern way to spice up any outfit. For a chic and modern look, try anything from a warm-wine or burgundy to eggplant. Try a midnight blue or military green for an edgy and dramatic feel, which is still wearable for everyday. At Karen Walker's nautical inspired show hands were polished to look elegant in CND's "Midnight Sapphire."
[Photo: CND/Karen Walker courtesy of Fox Greenberg Public Relations]
[ pagebreak ]
BOLD WITH TEXTURE


From leather inspired prints to magnetic metallic, now is the time to have some fun with this trend. Polish your nails with bold and intricate prints straight from the runway. Whether you want to go wild with a crocodile print, or tone it down with a glittery polish it's all about using your nails as a fashion statement. Alice + Olivia teamed up with the Sephora by OPI team to create a black-and-gold glittery texture that was inspired straight from the collections fabrics.
[Image Sephora by OPI, Alice + Olivia courtesy of Fox Greenberg Public Relations]