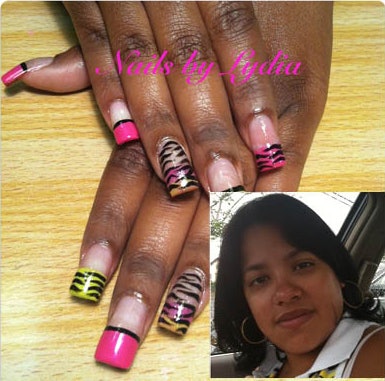 Welcome to NAILPRO's NAILED DOWN where we "nail down" the details of selected nail design artists from our User Galleries.
This week we visit East Hartford, Connecticut
Meet Lydia Vega:
How would you describe yourself?
I'd describe myself as an outgoing person who loves working with different clients.
Tell us about how you got started in the nail industry.
I started three years ago. I just wanted to try it, and out off nowhere I noticed that I had talent and that I loved it. I am currently working at Tavito Hair Salon in Hartford, CT.
Tool(s) you can't live without?
I can't live with out polish and my acrylic paints.
What is your craziest/funniest nail story?
I really don't have any funny stories. When my clients come to the shop, I make them feel like they are home and they love it. The one good thing that they like is that I can speak English and Spanish.
What tip can you offer to other nail technicians?
My tip to new nail techs is to just have fun with what you do and don't give up – because being a nail tech takes a lot of patience, but once you get going, it's fun.
You can find Lydia Vega on the web:
In the NAILPRO User Gallery: Nails by Lydia
Facebook: Lydia's Nails
Click here for more Nailed Down! interviews »
Would you like to be featured in NAILED DOWN? Post images of your nail art to our User Gallery. We'll be highlighting outstanding artists based on those submissions! (minimum six pictures to qualify for consideration) NAILPRO reserves the right to edit submissions for length, grammar and clarity.