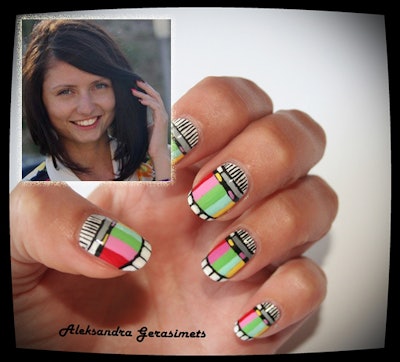 Welcome to the first installment of NAILPRO's NAILED DOWN where we "nail down" the details of selected artists from our User Galleries.
Our first nail artist hails from Vladivostok, Russia, but has been living and creating her nail art for the past five years in Barcelona, Spain.
Meet Aleksandra Gerasimets:
Where do you work?
I'm doing nail art as a freelancer and mainly for my blog, though I have some projects in mind: opening a salon and launching a line of nail wraps and nails of my design.
How would you describe yourself?
I'd describe myself as a person who is passionate about the creative process and beauty in all of its manifestations. I'm very emotional and creating something helps me to express myself. I'm a dreamer and believe in the power of positive thinking. I'd say I'm a perfectionist and a persistent person … 🙂
Tell us about how you got started in the nail industry.
I actually always had a passion for nail polishes and had a lot in my collection. … I remember myself at school, where my best friend and I would change our nail color every day and spend hours trying new things, or transforming ourselves into cool girls with nail piercings. I suppose that was the time when my love for experimenting with nails was born. The first time that I actually posted my nail designs on Facebook was in February 2012. I remember that the very first design I did was a leopard print and I loved the feeling of having something different on my nails. That was the beginning of my nail art journey.
What/Who inspires your work?
My source of inspiration can be a fashion magazine, catwalk, flea market, clothes, photography, art; all the beautiful and curious things around.
Tool(s) you can't live without?
My small brushes for nail art.
Favorite technique/style:
I love snake's skin nail designs, which I create using a freehand technique.
What is your craziest/funniest nail story?
The funny and at the same time very cute moments are when small children see my nails. They look with an intense interest first, then talk with their parents about it and eventually want to have the same [design] on their nails.
What tip can you offer to other nail technicians?
Be open-minded because you can find inspiration everywhere. First, create a clear picture of what you want in your head, and then make some scratches [sic] and the result won't disappoint you.
Anything else you'd like to add?
I'd add that nail art is great therapy for breaking up a routine. It's the way of self-expression and just a cool addition to your image and style. So experiment and add bright moments to your life, because life is all about small details!
You can find Aleksandra Gerasimets on the web:
In the NAILPRO User Gallery: Nail Art by Me
Blog: Pimp My Nails
Facebook: Nails Friendly Zone
Aleksandra helped celebrate Nailed Down!'s One Year Anniversary in August 2013!
Read the article here»
Click here for more Nailed Down! interviews »
Would you like to be featured in NAILED DOWN? Post images of your nail art to our User Gallery. We'll be highlighting outstanding artists based on those submissions! (minimum six pictures to qualify for consideration) NAILPRO reserves the right to edit submissions for length, grammar and clarity.