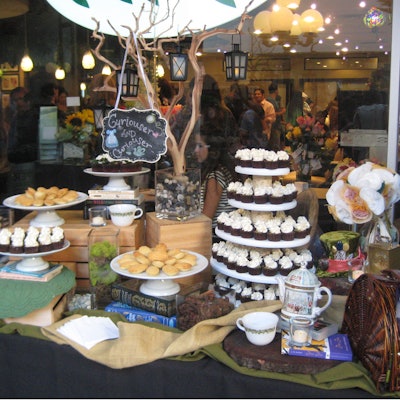 Nail Garden hosted their Annual Beauty for a Cause Summer Toy Drive on July 9th, inviting guests to bring new toys, books and DVDs to benefit the Chase Child Life Program at Mattel Children's Hospital UCLA. Guests lined up to receive free nail services, as well as blowouts and styling, mini massages and – an especially popular booth – glitter body art tattoos.
While people milled around inside the salon, there was shopping and food to be had in the courtyard. The Kendra Scott table displayed some gorgeous pieces of stone jewelry, little cupcakes fed nail art enthusiasts, and representatives from Mini Kittour were on hand to show off their beautiful travel kits. At the end of the evening, freshly manicured and styled attendees left with a stuffed gift bag full of beauty products.
---
Post your nail art in our user Nail Art Galleries » and share, vote or link from your own nail art blog! Don't miss our digital edition for this month's nail art how-to » and check our website's step-by-step nail art » for nail art from past issues!
---