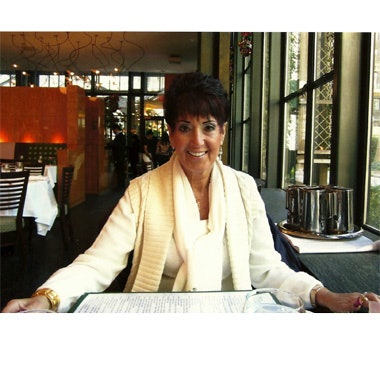 Tina Panariello didn't have any formal training in nail art, but that didn't stop her from winning multiple championships, serving as an OPI educator, and owning her own salon, Nail Artistry by Tina. Now, the self-taught Brooklyn native is hoping to inspire other nail technicians with her upcoming autobiography "My Legacy of Love." NAILPRO spoke with Panariello about her unique path.
NP: You've owned a number of businesses in different industries (children's theater, jewelry). How did you first become interested and involved with the nail industry, eventually owning your own salon? What drew you to nails?
TP: I was doing my own nails, all self taught. I used to do polish designs, and the places I sold jewelry as an in-home jewelry hostess would notice them. I would set up my jewelry and the customers would notice my nails. I'd say, 'If you give me a jewelry party, I will give you a nail art of your choice.' I started with word of mouth. At the same time, my son was young and I would go to school and they would see my nails and ask how they could do them.
I read every book on nails that you could read, that I could get my hands on. They didn't have nail schools at the time. With the three [customers] I started with and through word of mouth, I acquired other clients. I would do clients in their homes, traveling from Brooklyn to Queens and back, and I was out sometimes very late at night. My boyfriend at the time said, 'I think you should get a store.' Three months later I found it. I opened [Nail Artistry by Tina] in 1983, and my longest customer has been with me for 33 years.
NP: What is your favorite part about this business?
TP: I enjoy talking to my clients. I love the challenge of working on a set of nails that came in one way and then making them a gem. I don't use drills, and I don't use acrylic because I have asthma. I only work with a gel and a powder, and I form a perfect nail. Every person I touch – I've done thousands of nails in my lifetime – I've put a smile on everybody's face. [One of my clients] had cancer and was told she couldn't have nails – I ended up giving her a set of nails. Just being able to do that is a reward for me.
NP: What have been some of your professional highlights?
TP: Two years after opening my store I set my sights on competing. I decided there was no harm in trying. I entered the World International Nail and Beauty Association [WINBA], which has since closed. I lost third place by three points. Two years later I won first place at the IBS show – that was the one show I had to win. In 1989 I went back to WINBA and won first place.
NP: What medium do you prefer to work in? How would you categorize your style of artwork?
TP: I've always dabbled in art. I happen to like nature and flowers. In my art work I paint a lot of flowers. I also do murals. I look at something and sometimes I'll say to myself, "I can paint that, let's try it." If I can draw it on a piece of paper, I can paint it on a nail.
NP: Tell us about your book. What led you, at this point in your life, to write an autobiography?
TP: I wound up going online to look for nail art books. I couldn't see anything at the time that was like my work. I found a publisher [Tate Publishing LLC]…they called me and said, "Please send us a piece of your manuscript." I said I didn't have one! They told me to send more of my artwork and to start writing – and that I had more to offer than just nail art.
NP: What do you hope to teach nail professionals (established and aspiring) through your story?
TP: It's basically a motivational, inspirational autobiography. I wrote it for the nail industry to let everyone know that they just have to want it. They have to dream. I had no mentor. Nobody helped me. I didn't know anyone at the time who was in the nail industry. I did it on sheer guts. What I'm hoping my book says is: This is what I went through. This is the guts, the tears. Through all that I have gained my own peace, my own happiness that I want to share with you. If I can do it – and I did it at the time when there were no nail salons, no hope – I'm here to give you that little push if you want to.
Interview has been condensed and edited for space. "My Legacy of Love" is tentatively scheduled for release in January 2013. To learn more about Tina Panariello and her new book, go to www.tinapanariello.com.