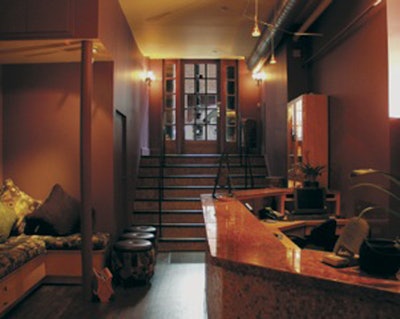 Putting down roots on Mercer Street in Soho–quite possibly Manhattan's most fashion-forward area and it's hippest street–might seem daunting to some. After all, with such neighbors as Marc Jacobs, Vera Wang and a soon-to-be-opened Yves St. Laurent, the type of well-heeled foot traffic this locale witnesses belongs to sartorial types with highly discerning tastes. But that didn't deter Haven Spa founders Gabrielle Ophals and Audra Senkus from opening up shop on this trendy street. "At the time, Soho was just starting to grow–I think there were two or three other stores on our block plus the Mercer hotel," Senkus shares. "Soho is an area we really liked–far enough away from our other location (Eve Salon in the West Village), but still downtown."  
Though the next bit thing plays a large part of the Soho landscape, this duo doesn't let fads get in the way of the end goal: cutting-edge services. "We're big on education; we encourage our staff to take outside classes and we also bring people in for in-house education," Senkus says. "Our staff knows how much we value furthering education, and though some of it is mandatory, we make sure that we hire employees who want to continue their growth, too." Whether serving up any number of this full-service spa's tempting skin treatments or tackling the nails of models backstage at Fashion Week, Haven Spa finds a keen balance between remaining at the forefront of what's current and offering their "eclectic" clientele services that remain timeless.
5 Reasons Why We Think It's Fabulous
1. Accessibility is key. Perhaps it's because both Ophals and Senkus began their beauty track right out of college as receptionists at nail salons, but they realize the value of keeping things real and down-to-earth. The staff is knowledgeable without being overbearing; there's no feeling of "keeping up with the Jones's." And in an area where stark and sparse reads as fashionable, this little enclave is awash with warm lighting, lined with comfy pillows and enhanced with wood accents. "We try to maintain a very accessible, cozy atmosphere," Ophals says.
2. Trends may dominate Soho, but Haven focuses on results. Though the denizens of Soho are always up to date in fashion, this hasn't prompted Ophals and Senkus to tip into the trendy zone. "We stay current with our nail color shades, of course," Senkus says. "But with respect to the services that we offer, we are constantly looking to keep up with advances in the industry. There are always new findings to discover, which is why we are big on education." And, tellingly, this formula matches Haven's clients' whims, to wit: "our classic manicure is always the most popular. There are times we introduce a new type of polishing technique that is fun for awhile, but most clients keep to the tried and true," Senkus says. At the end of the day, trends come and go, but servicing the client reigns supreme. "We strive to provide excellent customer service and deliver the results that we promise," Ophals says.
3. Prices are affordable and perks plentiful. Manicure prices top out at $35 for a 60-minute "Hand Renaissance," while Haven's Classical European Pedicure is $38. "We want to make sure that people don't view taking care of themselves as a luxury; it has to be something that can be done on a regular basis, not just for special occasions," says Senkus of the attractive price points. Soho-approved extras, like a Moon Add-On ($9) or Double French Add-On ($9), came about at the request of clients. "We took part in Fashion Week and created these looks for the runways, and our clients wanted us to perform these details on them, so we added them to the menu!" Ophals says. Another perk: To assuage any fears of cleanliness, Haven provides clients with a sealed pack of files that is theirs to keep. Additionally, the spa offers client-appreciated "Haven Rewards," a sophisticated point system that allows frequent visitors to use accrued points for all of Haven's services. "Everyone loves these points," Senkus assures. "And they can be customized to reward whatever you want to grow."
4. Tech-savvy salon sits well with clients. The restful atmosphere of Haven's manicure/pedicure room could induce a beauty coma, but if clients feel the need to catch up on work or read their favorite blogs, iPads with WiFi are available at each pedicure station. (Haven even encourages tweeting your #Pedi experience!) Additionally, Haven's website allows visitors to create their own "Instant Gift Certificate," a PDF that they fill out with specific services they'd like to gift to a friend or loved one. If a client is enrolled in the "Haven Rewards" program, she picks up 10 points for each dollar gifted.
5. The curated retail selection champions natural–and effective–products. "We take more than a little time choosing brands and products that best represent Haven's results-oriented mission," says Ophals of the spa's collection of both indie and well-known brands. "We lean toward the natural and rely heavily on products that our staff and clients can rely on to perform. As far as skin care is concerned, we test carefully and look at ingredients," Ophals says. "But we're always looking for fun, original stuff to stock in our boutique area," adds Senkus. "The hot polish colors of the season always sell well for us." -Karie L. Frost
Salon Statistics
Year Founded: 1998
Founder/CEO: Gabrielle Ophals and Audra Senkus
Website: havensoho.com
Address/Phone:150 Mercer St., New York, New York 10012; 212.343.3515
Hours: Mon.-Fri., 11 a.m.-7 p.m.; Sat. & Sun., 10 a.m.-6 p.m.
Most Requested Service: Classic European Manicure
Signature Service: Haven Hand Renaissance
Best-Selling Retail Item: Prince Reigns Premiere Ingrown Hair Serum