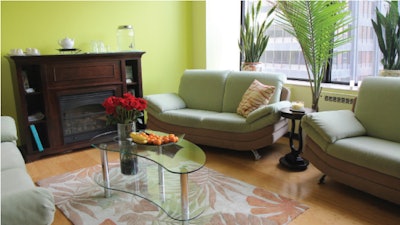 Amid the fancy storefronts and chic boutiques that line Michigan Avenue lies Water Tower Place—a soaring structure housing more shops, offices, residences and, at the top, the Elizabeth Adam Salon & Day Spa. The eponymous owner started her business in 1987, where she rented a single room in a nail salon in Chicago. Mostly through word of mouth advertising, her one-woman business grew into what it is today: an 8,000-square-foot, family-owned salon and day spa with over 40 employees who provide nothing but indulgent services.
Statistics
Year Founded: 1987
Owner: Elizabeth Adam
Website: www.elizabethadamsalon.com
Hours: Mon.-Fri.: 9 a.m.-7 p.m., Sat.: 8 a.m.-7 p.m.; Select Sundays: 10 a.m. – 3 p.m.
Signature Treatment: Detoxifying Hot Pouch Pedicure: A fabulous treatment using a hot steamed poultice filled with all-natural herbal ingredients and detoxifying essential oils; helps eliminate sluggishness, ease aching feet and release toxins.