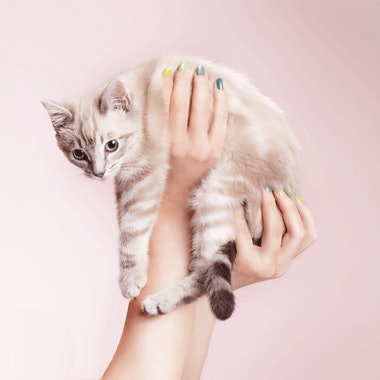 We presented a call to action for animal adoption in the March issue of NAILPRO—and we still are! But since that time, we've heard from Kitten Rescue (the organization that we worked with to get the sweet baby kitten for our photo shoot) that the little bug had some serious complication with his neutering surgery, which left him in the ICU with trauma to his kidneys. The organization covered the costs, but they've seriously depleted their funds—money that would be used to help find loving homes for unwanted cats and kittens.

Since working with this fuzzy little kitty, we feel that he's now part of the NAILPRO family, and naturally we'd like to do whatever we can to help out. So we're reaching out to you as well: Please consider donating any amount to the organization to help the star of our photo shoot. Click HERE and you'll be directed to KittenRescue.org where you'll have the option of donating online or through a link to PayPal.

Or, you can mail your donation to:
Kitten Rescue
914 Westwood Blvd. #583
Los Angeles, CA 90024

This cause doesn't take away from the fact that millions of cats and dogs need a good home. If you feel like there's a hole in your life that only a furry friend can fill, please consider adoption (opposed to purchasing your pet). A great organization that operates nationwide is PetFinder.com. Log on to their site, enter the animal type, breed and your zip code and a list of animals looking for a happy home will pop up—and do your part to save the animals.
Related: WATCH! March 2012 Behind the Scenes | In the Magazine: March 2012