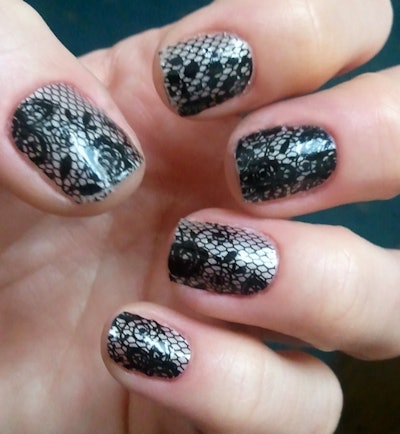 It's imperative to shine when the ball drops. And we all know that a girl's mani can be her best accessory on a special night. How will your nails twinkle this holiday?
If you're like me, there's never enough time in the day. So, to avoid looking tacky without a polished set of ten and to steer clear of getting stuck in a nail rut, I turn to those fabulous nail appliqués when I'm in a rush. Perfect for instant fab. (sorry about the earlier puns, couldn't help it!)
I chose Dashing Diva Lace Love Affair for the NYE soiree I'll be attending tomorrow. They're perfect!
For more ideas on how to rock the frock with nail stickers this New Year's Eve, check out our 'Stuck On You' article on page 94 in the January issue.
Happy New Year's Everyone!
—Megan James