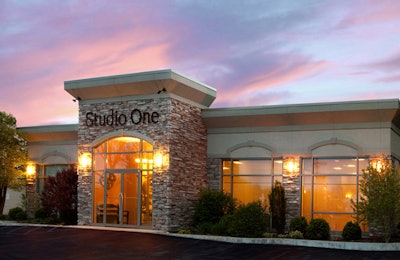 Thirty-five years ago, Studio One Salon & Spa owner Jane Levinsky invested $350 to open her salon in the back of a barbershop in Illinois. Fast forward to present day and she's still open for business in DeKalb—a city about an hour west of Chicago known for the development of barbed wire and home to Northern Illinois University. After four different locations and lots of trial and error, Studio One has evolved into a thriving business that understands the importance of the beauty industry. With touches like the exclusive pedicure lounge, relaxing water therapy wall and its talented staff, the salon marries a menu of mind- and body-enhancing services within a contemporary setting.
Year Founded: 1977
Owner: Jane Levinsky
Website: www.studioonesalonspa.com
Address/Phone: 1007 N. First St., DeKalb, IL 60115; 815.758.4508.
Hours: Mon., 10 a.m.-5 p.m.; Tue.-Thur., 9 a.m.-8 p.m.; Fri., 9 a.m.-5 p.m.; Sat., 9 a.m.-4 p.m.; Sun., closed.
Signature Treatment: Signature One Manicure and Pedicure.
Best Selling Products: OPI Products (retail), CND Shellac (services) and Tela Beauty Organics by Philip Pelusi.
Related Stories: 20 Lounge • Isle PediSpa • Ki Nail Bar & Organic Spa • Velvet Nail Lounge • Richard Joseph SalonSpa • Sephora Nail Studio by XpresSpa • Elizabeth Arden Red Door Spas • Julep Nail Parlor • Le Posh Spa|Salon|Lounge • Bellacures • Lulu's by Travis Parker • Elizabeth Ashton Ayurvedic Nail Spa • MiniLuxe • New Brentwood Gardens Nail Salon • Beauty Box Salon & Nail Spa • COLOR a Salon by Michael Boychuck
---
Post your nail art in our Users' Nail Art Galleries » and share, vote or link from your own nail art blog! Don't miss our digital edition for step-by-step nail art » and check our website's nail art archives » for nail art you might've missed!
---