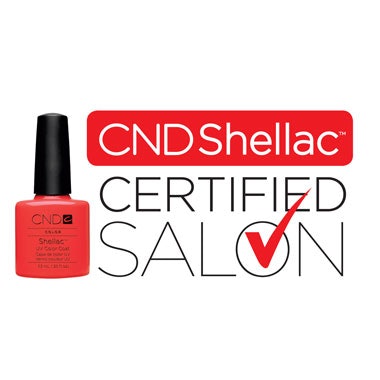 Don't Shellac without your seal! CND is launching the CND Shellac Salon Certification Program to assure clients that the service they're about to receive has the manufacturer's stamp of approval.
"The implementation of [the program] will ensure the ultimate experience for clients and will provide a great incentive to nail professionals to provide exemplary Shellac services," says CND co-founder Jan Arnold.
Want to get your salon certified? A CND rep will visit your salon to review protocol and provide education. Register online at cnd.com.
What will the reps look for in your salon?
• Salon uses CND Shellac Base Coat, Color Coat and Top Coat for all CND Shellac services.
• Salon uses the Brisa or CND UV Lamp for all CND Shellac services.
• Salon does not mix or pair CND Shellac with ANY non-CND shellac products such as base coats, top coats or color coats.
• Salon does not file the natural nail surface during application or removal of CND Shellac.
• Salon does not soak client's nails in a bowl of acetone to remove CND Shellac.
• Salon performs a manicure using ScrubFresh to P.E.P. (Perform the manicure, Eliminate surface contaminants and Purify the nail plate layers) the natural nail prior to a CND Shellac application.
• Salon uses 99% IPA to remove the tacky layer at the end of a CND Shellac service.
• Salon uses SolarOil to condition the nail and cuticle area.
• Salon uses pure acetone and CND Shellac Remover Wraps (or foil & cotton removal method) for removal of CND Shellac.
Certified salons will be listed in CND's Salon Locator on cnd.com, receive CND Shellac "Certified Salon" window salon signage, and have the opportunity to participate in other business building programs.