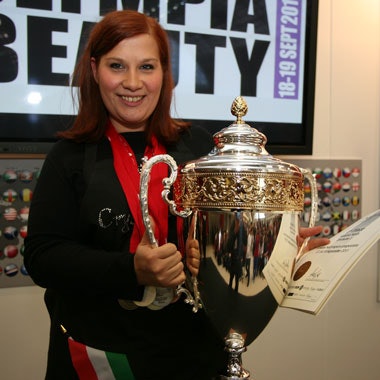 International competitors walked away from Olympia Beauty–held in London September 18-19–clutching their trophies from the seventh Nailympics London, one of the largest nail competitions in the world. This year's contest drew 328 competitors from 27 countries.
The Division 1 winner was Henrietta Almasi from Hungary with 309 points, while Olah Noemi from Italy had 323 points and secured the Division 2 prize. Sang Mi Seo from Korea was the Division 3 winner with 366 points.
Nail Harmony Bulgaria took home the Division 1 team trophy with 670 points; Division 2 was dominated by Crystal Nails International with 1,247 points. Hi-Tech Nails won Division 3 with 1,439 points.
The top UK tech was Olga Chapcott for Division 1, Anna Iskenderova for Division 2 and Elise Scholes-Pilkington for Division 3.
The winners, by category, were:
Acrylic Nail Sculpture
Division 1
1st: Song Hye Jeong, Korea
2nd:Ye Rang Son, Korea
3rd: Henrietta Almasi, Hungary
Division 2
1st: Silvia-Anne Muller, Germany
2nd: Sofie Devleiger, Bulgaria
3rd: Anastasia Scshadennko, Russia
Division 3
1st: Sang Mi Seo, Korea
2nd: Virag Halasz, Hungary
3rd: Eva Darabos, Hungary
Gel Sculpture OR Tip & Overlay
Division 1
1st: Song Hye Jeong, Korea
2nd: Henrietta Almasi, Italy
3rd: Daniela Lori, Italy
Division 2
1st: Noemi Olah, Italy
2nd: Elizaveta Ermilova, Russia
3rd: Zsusanna Lakatos, Hungary
Division 3
1st: Nikoletta Ban, Hungary
2nd: Eva Darabos, Hungary
3rd: Seo Sang Mi, Korea
Acrylic Liquid & Powder OR Tip & Overlay
Division 1
1st: Henrietta Almasi, Hungary
2nd: Song Hye Jeong, Korea
3rd: Ye Rang Song, Korean
Division 2
1st: Sofie Derlieger, Bulgaria
2nd: Anastasia Shshadenko, Russia
3rd: Ekaterina Kuzhetsova, Russia
Division 3
1st: Linn Himberg-Larsen, Norway
2nd: Eva Darabos, Hungary
3rd: Sea Sang Mi, Korea
Stiletto Nails
Division 1
1st: Henrietta Almasi, Hungary
2nd: Olga Clapcott, UK
3rd: Monica Dantoni, Italy
Division 2
1st: Eizaveta Ermilova, Russia
2nd: Silvia-Anne Muller, Germany
3rd: Ekaterina Kuznetsova
Division 3
1st: Seo Sang Mi, Korea
2nd: Roberta Gianetti, Italy
3rd: Anna Wesolowska, Italy
Fantasy Nail Art
Division 1
1st: Rebecca Lal, Belgium
2nd: Henrietta Almasi, Hungary
Division 2
1st: Lorena Amici, Italy
2nd: Monique Van Den Grommenacker, The Netherlands
3rd: Sabrina Scuccimarro, Italy
Division 3
1st: Maria De Lourdes Desfassiaux Vergara, Mexico
2nd: Vikki Taylor-Dodds, UK
3rd: Cristobal Cervera Barques, Spain
Soak Off Gel Manicure
Division 1
1st: Thalia Erodotou, UK
2nd: Bev Rose, UK
3rd: Kamelia Milosheva, Bulgaria
Division 2
1st: Carolina Nappi, Italy
2nd: Elizaveta Ermilova, Russia
3rd: Ekaterina Kuznetsova, Russia
Division 3
1st: Elise Scholes-Pilkington, UK
2nd: Hazel Dixon, UK
3rd: Debbie Brok, The Netherlands
Nail Embellishment
Division 1
1st: Rebecca Lal, Bulgaria
2nd: Ye Rang Son, Korea
3rd: Angelica Antiu, Italy
Division 2
1st: Lim You Mee, Korea
2nd: Anastasia Samsonyan, Ukraine
3rd: Sabrina Gaillez, Bulgaria
Division 3
1st: Seo Sang Mi, Korea
2nd: Hazel Dixon, UK
3rd: Claudia Valli, Switzerland
Mixed Media Boxed Art
Division 1
1st: Son Ye Rang, Korea
2nd: Son Ye Rang, Korea
3rd: Song Hye Jeong, Korea
Division 2
1st: Natalya Chizhova, Russia
2nd: Viktoria Borysenko, Ukraine
3rd: Natalia Akulenko, Russia
Division 3
1st: Seo Sang Mi, Korea
2nd: Celine Lam, Malyasia
3rd: Maria De Lourdes Desfassiaux Vergara, Mexico
Related: 2011 London Nailympics | Clipping the Competition | Gaming the Rules | Sage Advice