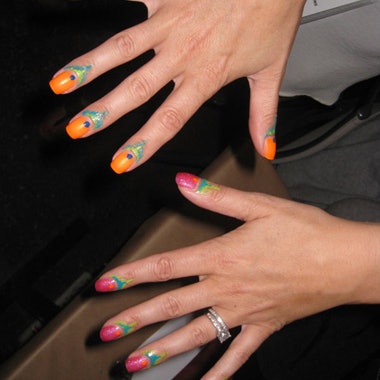 The beauty guise from Erikson Beamon's Spring/Summer 2012 presentation finds its footing in gardens—those of creation (the painting "The Garden of Earthly Delights") and death (the '60s film The Little Shop of Horrors). The resulting girl, flaunting bold, rainbow-hue eyes and neon nails, is today's "Eve," seeking her redemption. "The idea behind this is that it's a transformation of the Garden of Eden. The girl's father is a bird and her mother is human," explains MAC lead makeup artist Chantel Miller. "This look goes very, very far beyond the realm of what we normally consider beauty makeup." Girls find their eyes painted in hot shades of orange, pink or cyan MAC Pro Paint Stick, with brows highlighted in acid-yellow glitter. Neon Pigments sculpt the contours of their faces. One dark point amidst all the fulgent fluorescents: Inky purple lips coated in Lipmix set with sparkling Glitter serve to anchor the extreme eyes.
But those eyes: If Eve wishes to entrap Adam (again), all she needs are these serpentine lashes. "These are paper lashes that I made from MAC face chart paper!" Miller laughs, before adding that she knows full well the everyday woman won't be donning a set of these faux flutters on the street any time soon. No mind: "Traditionally, we don't really get to do this kind of makeup during Fashion Week. It's refreshing. I don't mind coming armed with every single glitter we make!"
Such bold, in-your-face makeup is best tempered by subtle hair. "We're inspired by the line's amazing, colorful jewelry, as well as birds, flowers and the natural elements in the world," says Salon AKS lead stylist Nikki Ray, who's working with Phyto. She notes that rather than create a coif that competes with the theatrical makeup, she wants to craft a more romantic look, which reads as two twists that roll into a low-slung ponytail. "We want to keep it classical, but still have a little messy texture in the ponytail," Ray explains. To begin the style, she applies Phyto Professional Glossing Cream to accentuate the two twists with sublime shine, then sprays Phytolaque Soie Light Hold Hair Spray to secure the twists. To coax out the right amount of texture, Ray mists Phyto Professional Workable Holding Spray for hold and runs an ample amount of Phyto Professional Matte Texturizing Paste through the length of the ponytail.
Nails, on the other hand, receive as much crazed beauty as the face. "We wanted the nails to almost look like flickering lights when the dancers [in the presentation] are moving," relates Nonie Creme, founder of Butter London. To achieve this effect, she paints each nail in a different hyper-color polish: acid green, neon orange, tropical pink glitter, and hot turquoise. "I love this because with polish, as with makeup—or anything colorful, for that matter—you're creating a way to mimic movement. You have these little color pops, and once the hand moves, it's just so beautiful."
Creme admits that the "peacock" nail look wasn't as "move-ing" as an earlier creation that ultimately was nixed. "The look was so cool, with flickers of nail polish up the thumb and fingers, and little drops of polish on the nail beds. The fingernails turned into little peacock feathers…" she says wistfully. But, alas, only one beauty element could capture all the drama. "It was too much, but I loved it," she thrills. —Karie L. Frost
Other Backstage Beauty Spring/Summer 2012: Cushnie et Ochs | Altuzarra | Cut25 | Joy Cioci | Jen Kao | BCBG Max Azria | Monique Lhuillier | Wes Gordon