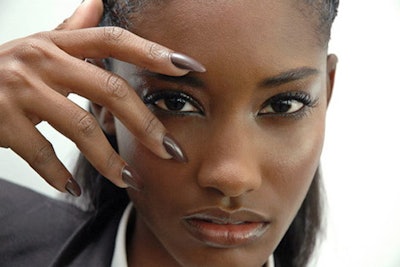 What makes the modern housewife? She may not be of the "Mad Men" ilk, but for designers Carly Cushnie and Michelle Ochs of Cushnie et Ochs, she can certainly borrow some elements of '60s stylings—with some steamy tweaks. Sheath dresses that end below the knee are forward-looking rather than retro, thanks to plunging necklines cut at sharp, skin-baring angles. Even eyelet and flounce skirts are sexed-up, appropriately so.
And how does the modern housewife gussy up? She glosses everything to the hilt: her eyes, skin, nails and hair. "The designers are looking for a sort of simple edge to their ladies—without the gimmicks," reports lead stylist Danilo, who's working with Pantene. To wit: The hair is unfussy and brushed back from the face. "We're really slicking the hair," he says. "You'll see that we're paying attention to the fine details of a simple hairdo. But rather than have it look wet when it's done, we're setting the hair right now. The girls go get their makeup done, and then when they come back we're brushing it out." The result: "clean, shiny, smooth, away from the face. It's a great style to showcase the makeup because all you see is face, face, face…and shiny hair," he winks.
The face, which is on full display, is what MAC lead makeup artist Charlotte Tilbury deems "Barbie going to a festival. The designers had all of these different images of Barbie they're inspired by, but we didn't want to make the models look too much like Barbie. Rather, it became: How could we spin Barbie to be fresher, younger, more sporty? How could we make her look like she's gone to an all-day music festival, with her makeup slightly smudgy but still sexy?" A strange mix of inspiration, but one that ultimately comes down to glowing skin, which Tilbury says "should look fresh." She touches up skin only in the areas needed using MAC Studio Sculpt SPF 15 Foundation, and then lightly dusts the T-Zone with MAC Prep + Prime Transparent Finishing Powder to lend polish. Cheek color in MAC Ladyblush Cremeblend Blush is concentrated only on the center of the apples for a more youthful, flushed look. Tilbury curls the lashes and adds an upturned eyeliner wing to elongate the eyes, and then coats the lids with MAC Gloss Texture to ramp up sheen.
The final bit of gloss is found on curvy stiletto nails, which Dashing Diva lead nail tech Pattie Yankee describes as "mannequin-like; like a flesh extension. The designers want the nails to look like they are a continuation of the skin, much like how Barbie has no nails." Desiring a perfect flesh-tone color match, Yankee sought the help of one of her makeup artist friends, who set her up with a bunch of airbrush foundation colors from which to begin the mixing-and-matching process. "From there, I mixed in different tones of mineral makeup with Dashing Diva Mr. Right polish, and came up with seven unique skin tone colors to match each girl," she says. The overall effect: polished, and not at all plastic. —Karie L. Frost/Beauty Etc.
Other Backstage Beauty Spring/Summer 2012: Erikson Beaumon | Altuzarra | Cut25 | Joy Cioci | Jen Kao | BCBG Max Azria | Monique Lhuillier | Wes Gordon