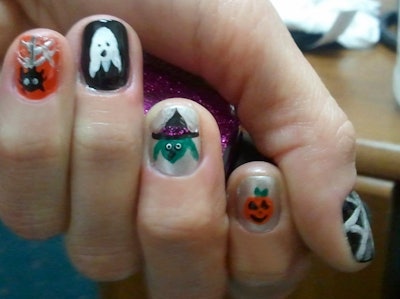 I've been anticipating this weekend for a long time. Anyone who knows me, knows I love Halloween and I finally found the perfect mani for my costume.
I am dressing as a flamingo with some girlfriends—a flock of flamingos if you will! But first, during the week, I wore classic All Hallow's Eve symbols on my nails that I painted on with Orly's Instant Artist paints. The polishes I used were all from OPI.
The pink glitter mani I gave myself is actually a soak-off gel one. Halloween is too important to deal with chips. I used Eco Soak-off UV Gel color Flamingo. Very appropriate I felt considering my costume. The glitter is from NSI.
I applied the glitter after I cured the base coat and first layer of gel (the flamingo color) into the tacky layer for the wet/glitter effect. It's perfect!
I hope everyone has a fun, safe and spooooooky Halloween!
—Megan James