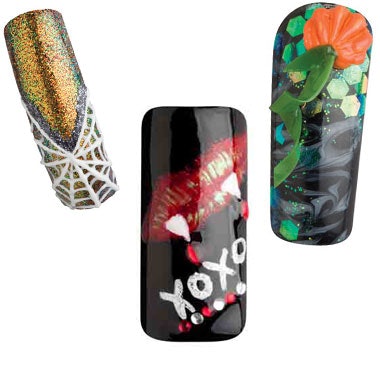 Halloween-inspired designs will be all over nails in October, preparing for the spook fest coming at the end of the month. In addition to the designs available in our Step-by-Step Designs, we received a few other designs we wanted to share.
On the left in the main picture is a nail designed by NAILPRO Cup winner Amy Becker, using gels from her line, Masterworks by Amy Becker. A glitter base is topped with a white gel spiderweb.
The middle nail is one of Nubar's designs. To create Dracula Kiss for yourself, follow these steps:
1. Paint the nail with Noir polish.
2. Using Nubar nail art pen in Classic Red to paint the lips. Let the lips dry, then outline them with Nubar glitter striper in Red Glitter.
3. Next, use the White pen to paint fangs and XOXO near the free edge. Add highlights in the lips with the Opal nail art pen.
4. Paint blood drops using the Red pen, and highlight the XOXO with the Nubar Silver striper.
5. Finish with Nubar Diamont top coat.
The right nail was created by nail artist Christian Mans for Bio Sculpture Gel.
Bio Sculpture Clear Gel is used for the base, sealer and the flexible 3-D leaf and vine. The color gel is #2067 Green Orchard.Mans used Bio Sculpture S-Gel to build the 3-D pumpkin, then he coated it with #2028 Tangerine (a summer orange) and #2030 Daffodil (a soft yellow). 
#1 French White, a bright white, and #2017 Liquorice, black, were also used to create the background of the nail.