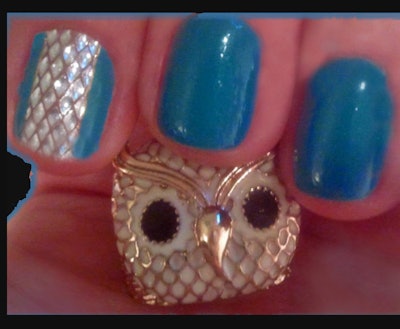 As many of you know, Dashing Diva recently launched their ultra cool Design FX at Cosmoprof this year, with celebrities already sporting the cutting edge nail art prior to the hype. We recently showed you Katy Perry's Smurfalicious nails
created by Pattie Yankee and I could wait no longer to try them myself!
Yep,instant fan. They're durable, easy to apply and just look really cool!
Make sure to check out Nailpro's October ProTalk for how to apply these super stickers. And take a look at the Behind the Scenes Fall 2011 Polish Story where Dashing Diva's head nail tech Pattie Yankee and Nailpro's beauty editor Karie Frost talk about what's hot this fall for nails. Texture and blue are definite musts according to our style gurus. Owl accessories (like my ring pictured) are still all good as well 🙂
My polish is Head Over Teals from Diamond Cosmetics.
Have a fun, fabulous holiday weekend everyone!
—Megan James