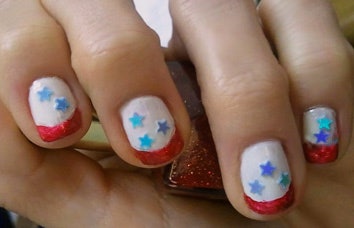 Happy 4th Everyone! I can't believe it's already here.
There are two different designs here because I couldn't decide what I wanted. I settled on the mani with stars for the first part of my weekend. The other design involved a splatter effect using a straw.
Your younger clients or your clients' children will LOVE what I like to call Jackson Pollock nail art. To create a cool abstract design with your polish, you dilute it with thinner then dip a small straw in it so that polish is gathered at the end of the straw (don't suck the straw!). Holding your finger over the top hole of the straw so that polish doesn't drip, place the straw about a centimeter from your nail and blow polish out through the straw. Short, strong bursts of air work best.
The manicure I chose is just as patriotic and reminds me of Wonder Woman's costume (still, very American!). I know the value of a good art brush so used one from en Vogue to draw the glitzy red tips and an orange stick helped me apply the Nailite blue stars on my nails. Polishes used: white Mona Lisa Smile from Duri and Red Gold from Real Gold.
Looking forward to seeing some of your 4th of July nails!
Ps. I just added an additional photo of what I chose for the second part of my weekend. More conservative and perfect for a client who doesn't typically get nail art but wants to be festive.
Have a wonderful weekend everyone.
—Megan James