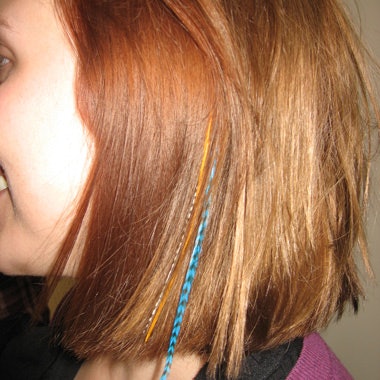 Bekki, Nailpro Intern Extraordinaire; Stephanie, Nailpro Editor and myself finally put FEATHERS in our hair. Given the product write-ups dispersed between six fashion magazines and all the squawking from style blogs, you would've thought these birds of the same feather had taken the plumage earlier. I felt like a lucky duck when Bling Strands sent me some extensions! (Okay, I'll stop with the bird puns.)
This is super easy to do and I highly recommend purchasing the silicon-lined crimping beads to prevent hair from getting damaged by, for instance, using jewelry beads instead. I did that and it looked great but sadly a lot of my hair came out with the old feathers. You can purchase these amazing little beads we used at www.dohairextensions.com. Very affordable and totally worth it.
Check out the pics here for steps and be on the lookout for our how-to video.
NAILPRO is a huge advocate to plug any new trends that may boost salon sales for you as an extra service. This is definitely a very pheasant one. (Sorry, I couldn't resist.)
—-Megan James