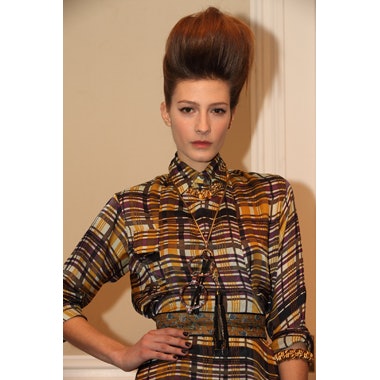 Zoya polish was all over the runways at Fashion Week, with several teams providing manicures for models.
Sisters Kristen and Alexandra O'Neill of Porter Gray looked to the Haven for Zoya Nail Polish team to manicure models nails in the glossy, deep Zoya Lael which complimented the shows looks.
The Victor de Souza show was futuristic and retro in one with modern nails, using Zoya's aptly named Dove. The Nail Taxi for Zoya team polished models' nails.
Always a trend setter, Peter Som led the no-makeup look for the season with his early showing on Friday morning. Nails were polished by the Zoya team with Sally, a subtle shimmer nude.
The Haven for Zoya team provided a twist on the classic French tip using Dove over a base of Caitlin for the Joy Cioci showing.
Designer Michael Bastian fell in love with deep rich green Envy last season and worked it along with the sparkly red Delilah into both his Fall 2011 advertising campaign and Gant by Michael Bastianshow.
Designer Jane Ibrahim of Maisonette 1977 selected a bold dash of creamy gray Dove for models' nails at the show. Nail Taxi provided manicures.
Max Osterweis and Erin Beatty of Suno looked to the past for a modern inspiration this season, and dark brown-black Angelina provided the perfect bold expression for models' nails.
William Wesley Myers of Haven custom-blended two Zoya hues and topped them with an Indigo French tip to the nails of models walking the Preen runway.
Sunshine Outing for Zoya hit the right note with Helen for models' manicures at the Tory Burch show.
Nail Taxi for Zoya polished nails in Raven during the Bensoni show.
Manicurist Elisa Ferri described the Marc Jacobs woman as a "21st century lady who lunches." Ferri polished to nails to perfection in the color Lulu.
Nail Taxi for Zoya applied Lael on all but one finger, which was gilded with Goldie, creating a simple and easy to wear fashion look for the models at the Guishem.
Bono's line Edun is dedicated to bringing trade back to Africa. Clean, clear glossy nails created with Qtica Solid Gold Cuticle Oil Gel and Zoya Armor Top Coat were featured at the show.
Polka dots and Zoya – what a wonderful combo! Elisa Ferri for Zoya polished nails at the Marc by Marc Jacobs with a single coat of pale pink Laurie to keep in tune with the minimalist makeup in the show.
Indian designer Bibhu Mohapatra selected three shades to complement his looks–Kelly, Jules and Dove.
Deep, volcanic, dark and gorgeous the beauty of Alexandre Herchovitch designs combined with hue Kelly on models' nails.
Manicurist Cinnamon Bowser of Nail Taxi made sure every look of the Elene Cassi was stunning, using colors Laney, Harley, Divincia and Snowsicle.
All images courtesy of Zoya Nail Polish.