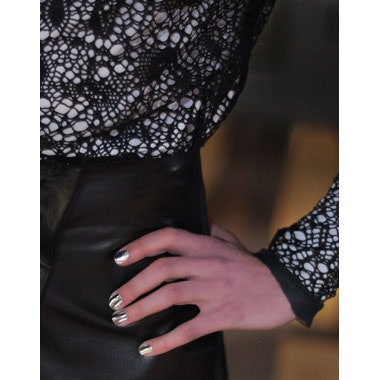 The Minx team worked with several designers to accentuate clothing designs with custom layering and specially designed nail wraps.
Minx nail stylist Lisa Logan and assistant Johnnie Nelson applied the Minx to the models at the Katie Ermilio show. The designer requested custom two-toned Minx in a variety of colors to accentuate her presentation. Images courtesy Lisa Logan.
The Bess show featured models wearing Minx designs from the new Minx Professional by Lisa Logan collection, applied by Logan and her team–Titilayo Bankole and Angel Williams. Photo credit: Joseph Richards.
Designer Daniella Kallmeyer requested Minx to complement her designs. Logan, Williams and Bankole worked with nail stylist Natasha Ray to apply Minx to the models while Minx co-founders Janice Jordan and Dawn Lynch-Goodwin assisted backstage. Images courtesy Lisa Logan.
Models wore a Cinnamon Minx in both solid and degradé for the Dennis Basso show applied by Logan, Bankole, Williams and Ray. Minx co-founders Dawn Lynch-Goodwin and Janice Jordan assisted backstage. Images courtesy Lisa Logan.