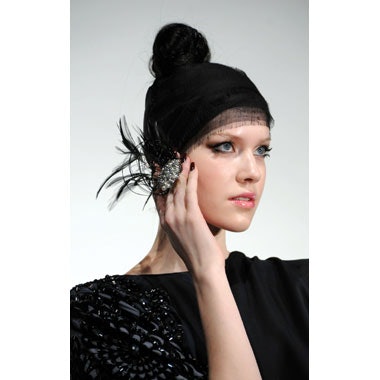 CND co-founder and style director Jan Arnold and nail artists Angi Wingle, Wanda Ruiz, Kristina Estabrooks, and Roxanne Valinotiare collaborated with 21 designers for their Fall 2011 shows.
For Jenni Kayne, Wingle created a blush taupe manicure by topping one coat of nude opaque Desert Suede with Copper Shimmer, then washing it out with a coat of semi-sheer patina Rose Water and covering it with Super Matte Top Coat.
At Wayne, Ruiz painted models' nails with Raisin in the Sun.
For Irina Shabayeva, Valinoti created contrast with jet black and bright white hues.
At the Binetti show, Estabrooks created a Cubism-inspired style using Blackjack as a base on natural nails. Then she "slim-lined" the nails with square tips painted Raisin in the Sun and topped with Bloodline. The manicures were embellished with 18 individual custom made adornments made of broken glass, fragmented mirrors, hardware nails and dramatic noir feathers.
For Behnaz Sarafpour, Ruiz created Manolo Manicures inspired by two styles of namesake custom-designed shoes by Manolo Blahnik for the show using clear tips and Blackjack. The other tips combined Blackjack smile lines with Putty on the base of the nail.
At Malandrino, Wingle custom-blended a polish using base shades of Silver Chrome and Brilliant White with drops of Asphalt, Putty, Desert Suede, Eclectic Purple and Bicycle Yellow.
At Carolina Herrera, Ruiz used two coats of Dark Ruby topped with glossy Super Shiney Top Coat on short, square nails.
For Sachin & Babi, Wingle used Fall 2011 limited edition Midnight Sapphire Colour (which will be available in September).
At Monique Lhuillier, Ruiz polished nails with Silver Chrome topped with Desert Suede, iced with Fall 2011 limited edition Dark Amethyst Colour. Pedicures were given two coats of velvet aubergine Dark Amethyst for a cavalier finish.
At Kevork Kiledijian, Wingle used opaque Desert Suede.
Images courtesy of CND.