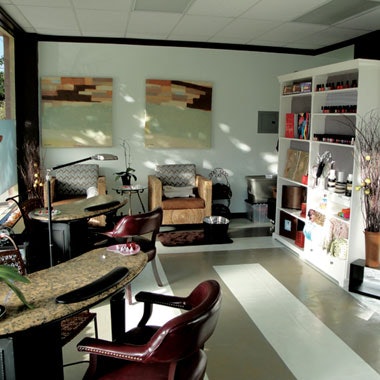 Nestled among the fashionable boutiques, quaint coffee houses and hip art galleries in the East Village Arts District in Long Beach, CA, lies the Elizabeth Ashton Ayurvedic Nail Spa. The eponymous owner had always fantasized about owning her own nail spa and worked tirelessly to reach her goal. Ashton's personal drive and shining inner light, combined with her dedication to her clients' health and wellness, have made this spa a true gem.
Salon Statistics
Year Founded: 2010
Owner: Elizabeth Ashton
Website: elizabethashtonspa.com
Hours: Mon.-Sun., by appointment only

More "Savvy Salon": 20 Lounge • Isle PediSpa • Ki Nail Bar & Organic Spa • Studio One Salon & Spa • Velvet Nail Lounge • Richard Joseph SalonSpa • Sephora Nail Studio by XpresSpa • Elizabeth Arden Red Door Spas • Julep Nail Parlor • Le Posh Spa|Salon|Lounge • Bellacures • Lulu's by Travis Parker • MiniLuxe • New Brentwood Gardens Nail Salon • Beauty Box Salon & Nail Spa • COLOR a Salon by Michael Boychuck
More Videos: Lady on a Swan Nails • Lotus Flower and Swan Nails • Butterfly Nails • How to Apply Glitter Body Art Tattoo • Shellac Flash Mob on Times Square During Fashion Week • This Is It: Michael Jackson Nails • NAILPRO Guest Stars on "Nail Files" on the TV Guide Channel • Get Twinkle Nails • How to Use Valentino Beauty Pure • Funky Leopard Manicure How-To • Tweet to Compete • Kim Kardashian Wows David Letterman with Lightning Minx • Nubar Gelicure Demos at ISSE • Learn the Sorbet Texas Technique at OPI • Orly Istant Artist
---
Post your nail art in our Users' Nail Art Galleries » and share, vote or link from your own nail art blog! Don't miss our digital edition for step-by-step nail art » and check our website's nail art archives » for nail art you might've missed!
---