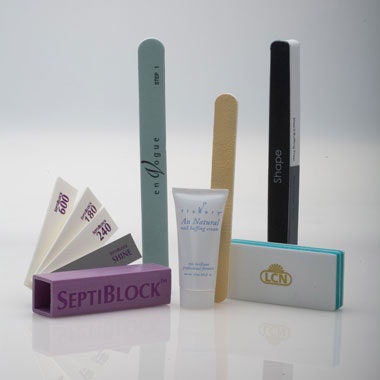 Buffers bring the natural shine of nails to the surface without the application of top coat. The three-way type, with grits of 2400/4000/12000, are the perfect tool for natural nails. Be careful not to over-buff, though. Nails only need the treatment once every three to four weeks because the shine remains until the nail grows out or the surface gets scratched.
Backscratchers Salon Systems • 800.832.5577 • SeptiBlock Make your natural nail service simple with this sanitizable and disposable system that includes 100-, 180-, 240- and 600-grit files, and smoother and shiner buffers.
en Vogue • 888.659.5559 • Miracle Shine Beautifully glossy nails in two steps: Smooth the nail plate with Step 1, and buff to a high shine with Step 2.
---
Post your nail art in our Users' Nail Art Galleries » and share, vote or link from your own nail art blog! Don't miss our  digital edition for step-by-step nail art » and check our website's nail art archives » for nail art you might've missed!
---
Flowery • 800.347.7456 • Nail Buffing Cream Bringing shine to the nail surface is even easier with this cream and free buffer: Use a small amount and smooth until the cream is gone and the nail plate is shiny.
LCN • 800.86.NAILS • Buffer Use the gray side of this buffer to smooth the surface of uneven nail plates, then turn it over to use the white side to shine.
Flowery • 800.347.7456 • Nail File Six files combine in one tool to complete a natural nail service with prepping, smoothing and buffing, plus shaping the free edge.