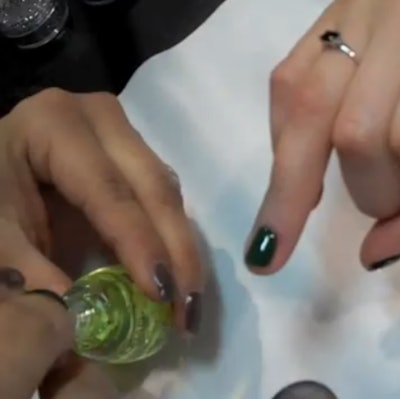 Nubar joined the soak-off gel craze with the launch of Gelicure Soak-Off Gel Polish during the International Salon & Spa Expo held January 29-31 in Long Beach, California.
This step-by-step video from the trade show demonstrates just how easy it is to use!
Related Videos: Lady on a Swan Nails • Lotus Flower and Swan Nails • Butterfly Nails • How to Apply Glitter Body Art Tattoo • Shellac Flash Mob on Times Square During Fashion Week • This Is It: Michael Jackson Nails • NAILPRO Guest Stars on "Nail Files" on the TV Guide Channel • Get Twinkle Nails • How to Use Valentino Beauty Pure • Funky Leopard Manicure How-To • Elizabeth Ashton Ayurvedic Nail Spa • Tweet to Compete • Kim Kardashian Wows David Letterman with Lightning Minx • Learn the Sorbet Texas Technique at OPI • Orly Istant Artist
---
Post your nail art in our Users' Nail Art Galleries » and share, vote or link from your own nail art blog! Don't miss our digital edition for step-by-step nail art » and check our website's nail art archives » for nail art you might've missed!
---